Active Hope
Donate Now
Issue 341

Nov/Dec 2023
Navigating Climate Anxiety
Reviews
Active Hope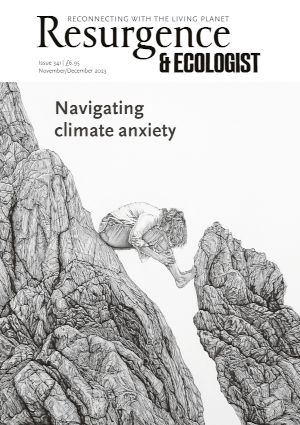 Cover: This Shifting Earth, 2021 by Kim Anderson www.kim-anderson.com.au
Diyora Shadijanova reviews It's Not That Radical: Climate Action to Transform Our World by Mikaela Loach
The climate crisis is a tangible reality, but collective fear, ignorance and denial will only get in the way of much-needed action. This is what climate activist Mikaela Loach lays out in her new book It's Not That Radical: Climate Action to Transform Our World. "It is a book about active hope; about all that is possible once we let go of the baggage of the old world and have the bravery to step into – and build – a new one," she writes.
The text positions itself as an introduction to climate justice, but it may also prove useful to those familiar with the topic, as it's packed with ...
To read the rest of this article, please buy this issue, or join the Resurgence Trust. As a member you will receive access to the complete archive of magazines from May 1966.
If you are already a member, please Sign in