Remodelling Our Food System
Donate Now
Issue 341

Nov/Dec 2023
Navigating Climate Anxiety
Reviews
Remodelling Our Food System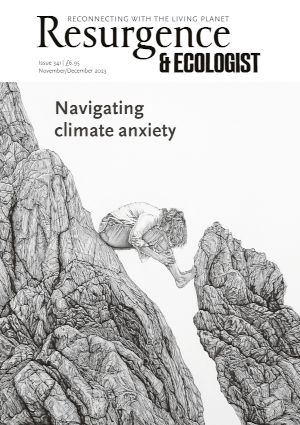 Cover: This Shifting Earth, 2021 by Kim Anderson www.kim-anderson.com.au
Edward Davey reviews Ravenous: How to Get Ourselves and Our Planet Into Shape by Henry Dimbleby & Jemima Lewis
Ravenous is a barnstorming, searing, wholly brilliant book about the UK's food system, written by Henry Dimbleby and Jemima Lewis (husband and wife, as well as co-authors). Dimbleby is the ex-management consultant turned founder of Leon restaurants who led the government's National Food Strategy review. Lewis is a journalist and former editor of The Week, and, as chief writer, promised herself that no sentence in the book would be incomprehensible to a thoughtful 12-year-old.
The result is a compelling but relatively short book that encompasses the key issues faced by ...
To read the rest of this article, please buy this issue, or join the Resurgence Trust. As a member you will receive access to the complete archive of magazines from May 1966.
If you are already a member, please Sign in