Letters to the Editor
Donate Now
Issue 341

Nov/Dec 2023
Navigating Climate Anxiety
Regulars
Archive
Letters to the Editor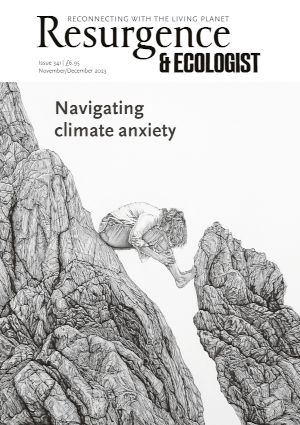 Cover: This Shifting Earth, 2021 by Kim Anderson www.kim-anderson.com.au
A selection of letters to our editor
Poetry, please!
I am so pleased to hear of the return of the poetry pages to the magazine and endorse all that Jonathan Davidson said in his letter as printed in the September/October issue.
I knew your former poetry editor Peter Abbs personally since we were both students together and I miss his regular contribution to Resurgence & Ecologist. He understood the cultural importance of the arts and the way in which they subjectify the outward experience of Nature. Bad art is the corruption of feeling, which is a large factor in the irrationalism dictators exploit.
Peter ...
To read the rest of this article, please buy this issue, or join the Resurgence Trust. As a member you will receive access to the complete archive of magazines from May 1966.
If you are already a member, please Sign in