Adam Wolpert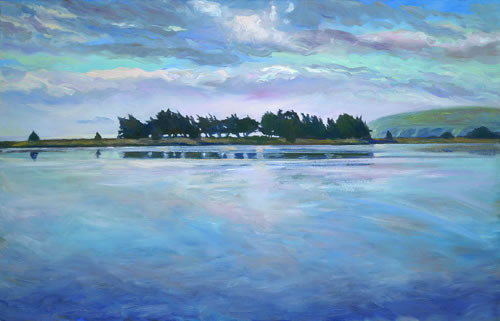 Adam Wolpert's paintings reflect a lifelong engagement with Nature. His widely varied imagery explores the themes of cycles, relationships and balance, and investigates the subtle distinction between the representational and the abstract. Adam's work changes with the seasons – his naturalistic outdoor work speaks of his relationship with the land and in particular his home in West Sonoma County at the Occidental Arts and Ecology Center (OAEC). Wolpert's decade-long dialogue with OAEC's gardens and wildlands is often expressed in his paintings.
Wolpert's studio work, often haunting and dreamlike, presents the viewer with images of fish in water, amorphous spaces, floating objects, skyscapes and landscapes of symbols. These studio paintings are often presented as triptychs or four-panel 'quartets' which juxtapose images, spaces and textures and invite the viewer to engage in a construction of their own narrative. Remarkable stylistic variation and dramatic breadth of scale are hallmarks of Wolpert's work.
A passionate artist from an early age, Wolpert explored the media of performance, ceramics, sculpture, and collage before turning seriously to painting.
"I am a painter and a communitarian fiercely in love with the world. I have devoted my life to seeing and have come to understand that I am part of a miraculous universe of dynamic connections and relationships. This understanding inspires in me a sense of awe and reverence that is made all the more poignant by the heartbreaking present collapse of many ecosystems and societies around the world. We are living in troubled times. As we struggle to address the daunting challenges we face today, we must make a shift from a fragmented to a holistic perspective in order to reconnect with the web of life of which we are a part. My practice of painting and living in community has taught me how to begin making this shift. I have painted many things since my journey began over fifteen years ago. My work has reflected not only my physical journeys but my inner journeys as well."