Bhajju Shyam
The King of the Underworld

The London Jungle Book

Watermarks in the Sky

The Miracle of Flight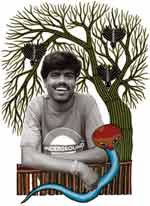 Bhajju Shyam was born in 1971 in the Gond tribal village of Patangarh, in the forests of central India. "I never set out to be an artist," he says. "My mother painted the walls of our home, as is our tradition, and she would ask me to help her paint the parts she couldn't reach."
The family sent their three children to school, but was too poor to put them all through the full term. "One of us would have books, the other would have a uniform, and the third would have a bag. If we were all one child, we would have made it through. But we were three and there wasn't enough to go around."
So sixteen-year-old Bhajju left his village and came to the city of Bhopal in search of work. He found a job as a night watchman, until an uncle of his asked him to become his apprentice. The uncle happened to be Jangarh Singh Shyam, the most brilliant Gond artist of the time, and the one who brought Gond art from the walls of the village into the public eye. Bhajju started by filling in the fine patterns on Jangarh's large canvases, but when his talent became apparent, Jangarh told him one day that the time had come to strike out on his own.
Bhajju's work began to be known throughout India, and his first international exposure came in 1998 when he was part of a group exhibition at the Musée des Arts Decoratifs in Paris. Since then his work has been shown in the UK, Germany, Holland and Russia. In 2001, he received a state award for Best Indigenous Artist.
Now, fifteen years after he set out to seek his fortune in the city, Bhajju has truly arrived. He has made an incredible creative journey: from decorating the walls of his village home to changing the way we see one of the great metropolises of the world.
An article about Bhajju Shyam by Tishani Doshi appeared in Resurgence issue 228.
The London Jungle Book by Bhajju Shyam
It is rare to encounter a truly original vision that is capable of startling us into re-looking familiar sights. Bhajju Shyam does just that. Bhajju is a brilliant young artist from the Gond tribe in central India who was invited to London two years ago to paint the interiors of an Indian restaurant. He found the mores and manners of London intriguing, and went on to record his experiences in the form a stunning visual travelogue. With radical innocence and great sophistication, Bhajju turns London into an exotic bestiary, where the Underground is a giant earthworm, Big Ben merges with a giant rooster, and English people are bats that come out to play at night. Bhajju breathes the ancient spirit of wonder back into the act of travel, showing you a London you have never encountered before.
The London Jungle Book: 48 pages, colour. ISBN: 81-86211-87-X. £9.99/19.95/Rs.750. Distributed in the UK by Turnaround PSL, orders@turnaround-uk.com