Brian Hanscomb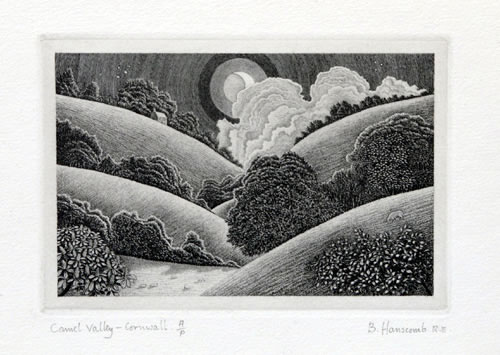 Brian Hanscomb inspired by Zen Buddhism, Quakerism and his immediate locality of Bodmin Moor in Cornwall, is known as Britain's leading copper-plate engraver. He started his career as an industrial engraver for the print industry, where he found the work good training but the factory environment rather soul-destroying. Brian decided to leave the factory in 1978 and moved to Somerset to pursue his creative talents.
Brian engraves using Victorian tools handed down to him during his apprenticeship and prints all his limited edition engravings by hand. The use of a single colour ink – usually black or umber – demonstrates superbly the simple line of engravings; where his work is more detailed, a single ink gives the tonal illusion of colour in the engraving.
At the present time, Hanscomb's work is becoming 'hard edged' and more symmetrical in many aspects, although still concerned with absolutes and trying to make "something out of nothing". In his latest mixed media work, he has been using gold leaf, pastel and pencil to create simple contemplative images. This is shown in his series inspired by the Burren country in County Clare, Ireland, seen on a spring time visit.
Capturing the essence of hidden rare flora in the Burren, Hanscomb has covered many areas of gold leaf within the images with scratch drawn flowers. A fusion of sea and land is apparent in these works as is a feeling of spiritual ascension, notably in Burren Eventide III, the last of the series.
Brian was elected a Fellow of the Royal Society of Painter-Printmakers (R.E.) in 1997.