Greg Tricker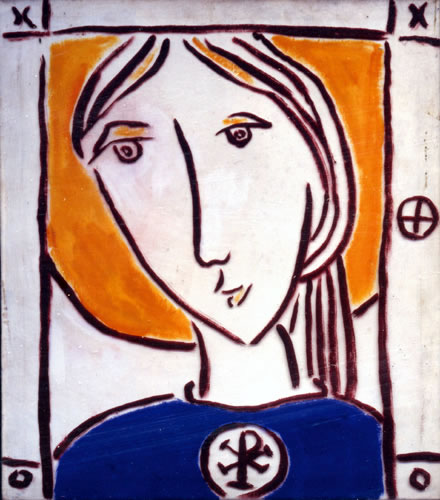 Greg Tricker is a Gloucestershire-based stone carver and painter. Deeply inspired by the inner struggles and alienation of Vincent Van Gogh in the early years, he later found his own direction painting with batik, the Indonesian cloth-dyeing medium. Greg then developed his own unique style of painting on the Isles of Scilly. This profound and simple style follows in the mystical and sacred tradition of art akin to the work of Rouault and Cecil Collins.
Qualities of myth, echoes of the Folk Art Spirit and elements of the circus feature in Greg's work. Upon visiting the catacombs of Rome, where the early Christians were buried deep in the ground Greg found ancient paintings which resonated deeply with his previous artwork. There was a meeting point at the catacombs, pagan mysteries and early Christianity, old and new testaments, east and west, all came together.
Following this experience Greg created a series of paintings and carvings, celebrating early Christian wall paintings, Greek myths and Byzantiun, Romanesque and contemporary art. He has produced a number of themed exhibitions, notably Paintings for Anne Frank, The Catacombs and recently Francis of Assisi.