Monica Guggisberg and Philip Baldwin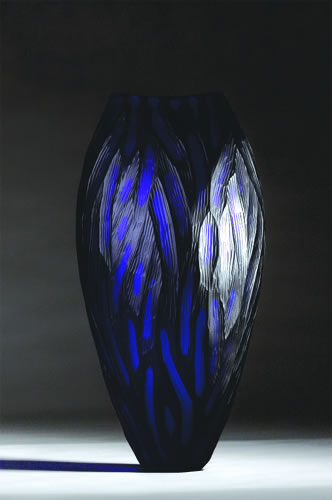 Monica Guggisberg and Philip Baldwin have been working as a team since 1980. For twenty years they had their studio in Switzerland, and in 2001 they moved to Paris. Independent artists and designers, working principally in glass, they concentrate on one of a kind vessels, larger sculptural works and installations for public spaces. They have received many design and art awards and published several books. Their work is in private collections and museums worldwide.
The vessel goes to the essential heart of their work. "It's that most serene place where we may repose and gaze out at the world. And at the same time it's the place where we make the most cutting edge experiments in what we do."
"For twelve years we have been combining Italian cold-worked cutting techniques with Swedish blown glass color underlay and overlay. Originally inspired by Carlo Scarpa's work with Venini in the 1930's and 40's, we have taken 'battuto' where – to the best of our knowledge – no one else has gone: cutting through the thin layers of color, revealing the colors underneath, weaving pattern and color on the one hand, form and texture on the other. It may reflect images found elsewhere in the world, in walls, in fields, in the bark of a tree, in a river flowing downstream at twilight. Or perhaps nothing at all – pure abstraction of geometry and color.
"A famous artist has said, "I have no favorite color, I have come to love them all." So have we. And, we remain dedicated to simplicity of shape and line, a clean crisp form gleaming."