Jane Ray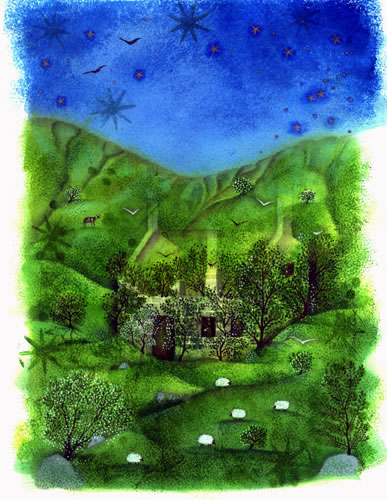 Jane Ray's distinctive style has established her as a successful and highly regarded picture book artist, recognised in Britain, Europe and the US. Jane is known mainly for her children's books but has also designed greetings cards, posters and book-jackets. Jane often portrays environmental themes and issues – something that is of great concern to her.
Jane has recently been involved in an exciting new project called 'In The Picture'. It aims to promote the inclusion of disabled children in early years picture books and stories. It is vital that all children can see something of themselves in their books and as an illustrator Jane has tried in the past to make her pictures inclusive in this way. This website which includes a piece by Jane called 'Still Invisible'.
In the future she plans to spend more time on her writing, including ideas for a book of art projects for schools, as well as stories and poems for children. Jane has created many wonderful illustrations for Resurgence over the years and continues to do so.