John Leach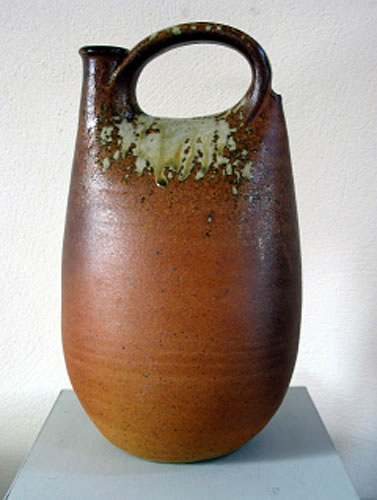 John Leach, eldest grandson of renowned potter Bernard Leach, continues the family tradition at Muchelney Pottery on the edge of the ancient village of Muchelney in the heart of the Somerset Levels. John started the pottery in 1965 with his wife Lizzie. The pots are all hand-thrown, using local clays, and wood-fired in the kiln to the high stoneware temperature of 1320°C, which creates their distinctive 'toasted' finish.
Kiln Opening Day is always a time of great suspense and anticipation. "It's the unpredictability which is forever exciting", John explains. His one-off signed work has evolved from his long commitment to the repeat production ethic. Diversifying from this discipline he has explored the possibilities of the wood-fired kiln – his 'unpredictable dragon' – following new creative impulses to produce fresh shapes and subtle colours. In particular, his saggar-fired 'Black Mood' pots are much sought-after by collectors and galleries.
John's work is on display and for sale in the Gallery at Muchelney Pottery and in selected major galleries. Examples of his work are also in 10th century Muchelney Abbey and Cleeve Abbey, Somerset and in the permanent collections of the V&A Museum, London and The Tate Gallery, St Ives.