Peter Randall-Page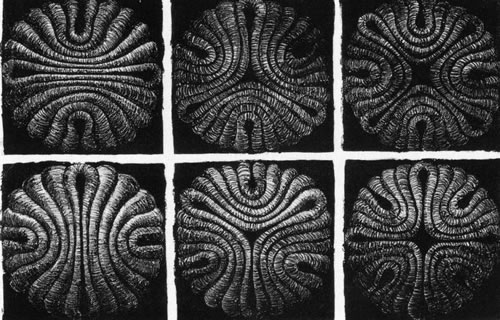 Peter Randall-Page is a sculptor who lives and works in an idyllic valley on the edge of Dartmoor in Devon. He is immersed in and inspired by Nature, to the extent that all his work is based on the study of natural forms and patterns.
In recent years his work has become increasingly concerned with the underlying principles determining growth and the forms it produces. In his words "geometry is the theme on which nature plays her infinite variations, fundamental mathematical principles become a kind of pattern book from which nature constructs the most complex and sophisticated structures". Peter's appreciation of the principles of mathematics and geometry is bought to life through his sculptures, looking at them one sees the sheer beauty in mathematics.
His understanding of the natural world has come from direct observation. Not just an objective observation but an appreciation of how the things we see in nature impact on our subjective mind. "People think of pattern as a superficial thing, a kind of add-on, like a pattern overlaid on something else. But pattern and decoration are two different things and pattern isn't decoration. Pattern is incredibly profound and everything we see around us consists of various patterns".
Seed is Peter's latest and perhaps most celebrated sculpture which can be seen in the new education centre at the Eden project in Cornwall.