William Peers
Jenifry • 44 x 12 inches

Hoops

Youlstone

Lines of Scale

Goat

Pentire 2003 • Relief carving • Hornton Stone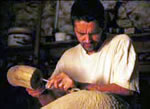 Born in 1965, William Peers apprenticed himself to a stone-carver shortly after leaving Falmouth Art College. With him, he was urged to work slowly and entirely by hand, rather than with machine tools. At first his work was largely figurative and he pursued a path similar to earlier direct carvers, chief amongst them Eric Gill, but gradually his work became more and more abstract.
Unusually for an abstract sculptor, Peers's work is unusual for that of an abstract sculptor in that it is wall-hung. This means that it has to be viewed from one angle rather than from all sides, and this lends a greater emphasis to the surface of the stone and to the delicate chisel-work than to the overall shape.
Peers now lives and works in Cornwall, and many of the sculptures are named after places near his home such as Oldiscleve, Gauter Point, Bradavin and, looking at the softly rolling contours of the carvings, it is tempting to see his work describing the countryside like some aerial relief map. As such he shares the same deep feeling for the Cornish landscape that Peter Lanyon, himself a keen glider pilot, conveyed in his paintings. The rolling hills and streams of the Cornish landscape lie at the root of all his recent work and the small chips left by the chisel are like tiny footprints mapping out this terrain.
An article about his work, Walking and Carving, appeared in Resurgence issue 207.
His sculptures can be seen at www.jmlondon.com
For further information please contact Ruth Wilkinson