Ynez Johnston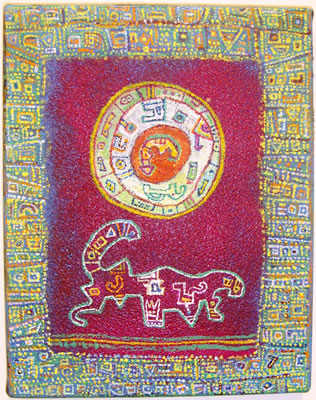 Moon Animal - 2007 - Cassein on canvas - 25 x 20 cm
Over the past fifty-five years, Ynez Johnston has been traveling to ancient sites throughout the world, sharing these voyages through her art. Through her personal and highly individual imagery, she reveals the exotic influences of these journeys.
Born in Berkeley, California in 1920, Johnston's love of art was evident at an early age. She found enchantment in the romantic landscape of San Francisco, its Chinatown and in the Asian and Persian art she saw in the Golden Gate Park museums. After completing her studies in art at UC Berkeley, her many trips to Europe, Mexico, India, Southeast Asia and Japan further broadened her artistic vocabulary. Even today, Johnston melds these aesthetic languages into her unique visual narratives. In glowing colors as well as stark black and white imagery, she transports her viewers to mystical sites.
Ynez Johnston has great powers in all media: painting on silk, canvas or board, drawing and printmaking. She experiments with materials like sand, modeling paste and dry pigment to create wonderfully textured and luminous paintings, Using any technique, Ynez Johnston's art is fascinating and mesmerizing.