Pilgrimage to Tibet
Issue 187 • March/April 1998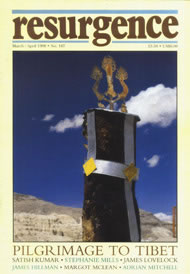 Buy a copy of this issue
Become a member and receive 6 issues a year
Contents
Key
Free for all to view
Free for members to view
Not available
Feature Articles
TRAVELS WITH AN ELECTRON CAPTURE DETECTOR • James Lovelock
Science can still be a vocation, not just a career. Something that can be done even at home.
Sensory experience renews the bond between our bodies and the breathing Earth.
The European Union¹s proposed law on patenting will put economic benefits in the hands of the few and endanger the lives of the many.
The movement is growing in opposition to the genetic industry.
Fantasy and myth communicate a deep truth.
An allegory about global climate change.
There is ninety times as much money circulating in the world as there are goods and services to exchange.
Building societies were founded for the benefit of their members and in support of the local economy. Now they are becoming banks to serve in the interest of the global market.
In a new book, a psychologist and an artist explore the question of why animals are proliferating on TV while they are rapidly disappearing from the planet?
Health arises from a way of life which includes good diet, good sleep and good exercise. But, above all, good relationships with everyone around you.
Three miles above sea level, Tibet is the roof of the world and sacred Mount Kailash is the ladder to Heaven.
A new book, Fire Under Snow, tells the story of a Tibetan prisoner.
LIGHTING UP LADAKH • Bunker Roy
Indian civilization is an epic, the text of which is ever unfinished.
DIGNITY AND DISABILITY • Sarah Hall
Disability does not mean degradation of human life. Camphill villages offer hope to the handicapped. Here is a Russian example.
Regulars
Using a consumer accessory (a dog-walker) to manage another consumer accessory (a dog) is an extraordinary feat of accessorization.
Letters to the Editors
The Potato - a pharmacist planted potatoes outside Paris and put guards around the field to protect them.
Reviews
Review of Microcosmos, Bugs in the System , The Forgotten Pollinators
THE PHYSICS OF CONSCIOUSNESS • Chris Clarke
Review of The Large, the Small and the Human Mind
LOVE WITHOUT RESTRAINT • Nick Robins
Review of Albert Camus: A Life
Review of The Diving Bell and the Butterfly
ALCHEMY OF MINDS • John Moat
Review of Alchemy: The Art of Transformation
THE PRACTICE OF PRAYER • Ronald Lello
Review of Prayer: A Study in the History and Psychology of Religion
IS FEMINISM OVER? • Sue Wheat
Review of Tomorrow¹s Women
CAPITALISM WITH CONSCIENCE • Sarah Roberts
Review of Cannibals with Forks, The Hungry Spirit
Review of Reforming Energy
Review of Myth of Progress
Review of American books about simple living