The Gene Debate
Issue
188

• May/June 1998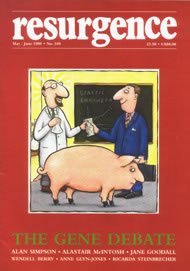 Buy a copy of this issue
Become a member and receive 6 issues a year
Contents
Key
Free for all to view
Free for members to view
Not available
Reviews
Review of The consequences of genetic engineering reach into every corner of our lives.
Review of We are witnessing the emergence of a cult camouflaged as science but without any ethical foundation.
Review of The Brave New World of patents on life is all about imperialism in a new guise.
Review of Through gene technology corporations are invading plants, animals and indigenous people.
Review of Genetic engineers want to transform plants and animals into commodities.
Review of Radicals and shoppers agree that tampering with food through genetic manipulation is dangerous.
Review of The Post-Development Reader
Review of Cities for a Small PlanetTHE DRIVE TO MODERNITY
Review of The Resurgence of the RealA HUMBLE DEFIANCE
Review of Fire Under Snow
Review of The Mandeer Ayurvedic Cook Book, The Ayurvedic Cookbook and The Book of Bread
Review of Gardener Cook, Plants for a Future, and Nature Wars: People v. Pests
Feature Articles
It is not necessary to find truth, only to seek it.
Environmentalists are holding The People's Summit to draw attention to the real issues.
Agrarianism is a culture at the same time as it is an economy. Industrialism is an economy before it is a culture.
It is easy to see the rôle of the selfish gene but we need to recognize cultural and moral evolution.
Ben Hartley was a painter, a poet, a colourist and a humorist.
Wildlife photographers harass animals to get their best shots.
Roads are the premier technology of empire, of centralization and homogenization.
Schools and streets, homes and hospitals: society is gripped by violence.
The art of Leisha Seyat.
The world is an enigma.
Regulars