Earth Charter
Issue 195 • July/August 1999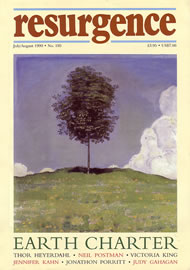 Buy a copy of this issue
Become a member and receive 6 issues a year
Contents
Key
Free for all to view
Free for members to view
Not available
Welcome
Australia
Diary of a journey to Brisbane, Sydney and Tasmania.
Aboriginal people consider themselves to be artists.
Aboriginal art carries the viewer into the heart of a landscape.
MORE PRECIOUS THAN GOLD • John Cameron
A quest for minerals led to betrayal of a mountain country.
Feature Articles
EARTH CHARTER
To secure the well-being of all life.
Monsanto is sowing the seeds of destruction.
We need to respond to the universe imaginatively.
Seeing the sublime in a small mountain
A tribute to Lady Eve Balfour and Rachel Carson.
St. Kilda is under threat.
We spend our days in one enclosure or another.
In Italy, food feeds the body and social relationships.
Technology
Six searching questions.
New Ideas
The "page 3" of every newspaper should be the place for fair debate
Interview
Nature itself is the greatest miracle.
Frontline
A city where you can walk to shops, cafés and parks.
Regulars
Letters to the Editors
Reviews
Review of The Biotech Century
TRAVERSING THE GLOBE • Boyd Tonkin
Review of About This Life
Review of The Penguin Book of Twentieth Century Protest, The Sixties, Liberating the Corporate Soul, The Ownership Solution, Open Minds
Review of Ka. Studies of the Mind and the Gods of India
Review of Lawrence Durrell: A Biography
Review of The English: A Portrait, The Life of Thomas More
Review of Living Lightly
Review of Alternative Agriculture
Review of Beyond the Darkness
Review of The Compassionate Revolution
Review of Fiber
Review of Riding the Wind