Nature Millennium
Issue 198 • January/February 2000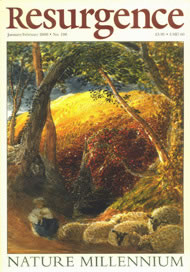 Buy a copy of this issue
Become a member and receive 6 issues a year
Contents
Key
Free for all to view
Free for members to view
Not available
Welcome
Readings
He saw the soil, rivers and ocean in the soup.
Feature Articles
Markets make a good servant, a bad master and a worse religion.
IN DISTRUST OF MOVEMENTS • Wendell Berry
The author refuses to join single issue movements.
In New Zealand, Maori people are regaining their long-lost rights.
Cities & Suburbs
Suburbs present an opportunity to mix the best of town and country.
SUSTAINABLE SETTLEMENTS • Colin Ward
The suburb is the characteristic settlement pattern of the twentieth century.
Six suburbs point to sustainability.
We need better, not bigger, cities.
Education
Gardening should be as important in education as English, Maths and Science
The Arts
THE PRESENCE OF SPIRITS • Thomas Moore
The art and spiritual practice of Joan Hanley are closely connected.
Sika's didgeridoos and Caitlin's voice create a longing for the land.
The sculptures of Jilly Sutton.
Timeless Wisdom
C. G. Jung believed that nature nourishes the soul.
Frontline
The choice is between artificial and organic.
Trees for Life is regenerating the Caledonian Forest.
Independent bookstores for independent minds.
Resurgence Readers' Summer Camp was charming and challenging.
Regulars
Letters to the Editors
Reviews
Review of Britain's Rare Flowers
Review of Earth First!, The Biosphere and Noosphere Reader and Bioregionalism
Review of Natural Capitalism and The Clock of the Long Now
Review of Benares Seen from Within
Review of The Circus at the End of the World
Review of Voices from the Heart
Review of Wild Hunger
Review of Earth at a Crossroads
FACING THE FUTURE • Ed Ayres
Review of God's Last Offer