Culture of Compassion
Issue
200

• May/June 2000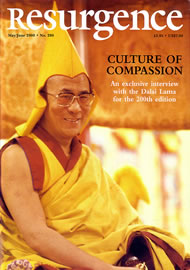 Buy a copy of this issue
Become a member and receive 6 issues a year
Contents
Key
Free for all to view
Free for members to view
Not available
Welcome
Feature Articles
Non-violence is the only way to free Tibet and find solutions to other world
Let us strive to create a world free of nuclear weapons.
Here is a clear and viable alternative to global capitalism.
Nature plc was an immediate success.
Ireland is a country where those in power fail to distinguish between standard of living and quality of life.
How is radical Clare Short faring in the corridors of power?
The time has come to re-examine our ideas of progress.
The Marchioness of Worcester has one foot in the Establishment and the other in the environmental movement.
Scientists cannot claim that their research is "disinterested" whilst filing patents to make a profit.
Christians and Darwinians have little to fear from each other.
A tribute to Kathleen Raine.
The Arts
Morris Graves has brought together technology and tranquillity in his series of sculptures.
The great thing about the whole world is love, because it's all a great mystery.
Susan Derges's river odyssey is expressed in photograms.
Frontline
Home-Start volunteers are helping families and children.
Cultivated Californian "wild rice" is very different from natural wild rice which grows in northern Minnesota.
A look at organic and fair-trade tea.
Regulars
Reviews
Review of The Great Work
Review of The Carbon War
Review of Green Psychology
Review of Cultural and Spiritual Values of Biodiversity and The Sacred Balance
Review of Village Voices: French Country Life, and On Country Roads and Fields: The depiction of 18th and 19th century landscape
Review of The African Experience
Review of W. B. Yeats and the Learning of the Imagination
Review of Birth of the Chaordic Age
Review of Desert Solitaire
Review of Raga Mala
Review of The Ecology of Money
Review of Earth Spirituality
Review of Quaking Housesz