Only Connect - Soil, Soul, Society
Issue 201 • July/August 2000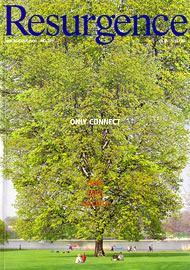 Buy a copy of this issue
Become a member and receive 6 issues a year
Contents
Key
Free for all to view
Free for members to view
Not available
Welcome
Feature Articles
British people aspire to a socially, spiritually and environmentally cohesive future.
Taking the pulse of the green movement.
We need to build on the many new ideas that grew out of the green movement in the last twenty-five years
THE GHOST IN THE MIRROR • Andrew Marr
Like socialism before it, environmentalism is shaping the political agenda of the future.
New Labour modernizers are ignoring the urgency of the required environmental transformation.
From Gaia to green politics, the ideas of the past quarter-century have changed our relationship with nature and with each other.
FROM CONTROL TO PARTICIPATION • Brian Goodwin
Quantum, chaos, complexity and creativity have taken science to new frontiers.
The ecological, the feminist and the spiritual make a common cause.
It costs more to destroy the Earth and less to maintain it.
Economic globalization has been a disastrous development for the people and the planet.
Our climate is owned by no one and shared by everyone. Rich countries have a case to answer.
Restoration of wildlife is possible and feasible in Britain.
In the quest for quality of life some people are seeking voluntary simplicity.
A personal story of peace, politics and protest.
What happened to all the leisure promised by time-saving devices?
Peter Matthiessen has rekindled a longing for the wild.
The Arts
Land Art is a passionate rebellion from the gallery-centred art-for-art's-sake convention.
For Alex Stewart painting is a journey.
Frontline
There is a new longing to create forests.
Nature has provided the seed with a perfect environment.
GROWING COMMUNITIES • Adam Rock
Vegetable boxes are delivered by bike and without glossy packaging.
The Wholesome Food Association is a new group promoting naturally grown and locally sold food.
Regulars
Reviews
Review of Books which have shaped the new world-view in the past twenty-five years.
Review of Planet Dialectics
Review of The Lugano Report
Review of Market Whys and Human Wherefores
RUMINATIONS ON REALITY • Maurice Ash
Review of Western Paths, Eastern Paths
Review of The Living Land
Review of The Pursuit of Paradise and Christopher Brickell's Garden Plants
Review of The Sacred Earth
A CURSE ON OUR TIME • Chris Roth
Review of Believing Cassandra
Review of All Our Relations
MUCH ADO ABOUT MODERNISM • John Lane
Review of Modern Times Modern Places
Review of John Ruskin, The Later Years