The Earth is all the home we have
Issue 206 • May/June 2001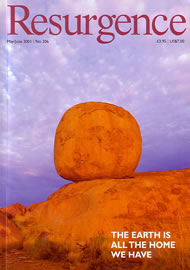 Buy a copy of this issue
Become a member and receive 6 issues a year
Contents
Key
Free for all to view
Free for members to view
Not available
Welcome
Science
AT THE SERVICE OF THE EARTH • James Lovelock
Gaia theory embraces intuitive science.
From microbes to the human race, all organisms are equally evolved.
Gaia extends religious horizons.
India Diary
India both inspires and disillusions.
The story of villagers who made the river run.
Travel
Bhutan's quest for peace, prosperity and happiness.
Economics
GLOBAL PROBLEMS, LOCAL SOLUTIONS • Wendell Berry
Citizens must protect themselves by developing local economies.
Business without ethics is bad business.
Politics
The Earth Charter will unleash energies that will change human societies.
An EU agreement for tougher measures on the aviation industry.
A THOUSAND LOOPHOLES • Alex Evans
Climate Change talks at The Hague collapsed, but an alternative proposal is gaining support.
The Arts
Inuit sculptures evoke spiritual fluidity.
The art of Fernando Montes.
Olympics
The Greening of the Games.
Frontline
A solar community.
HIVES OF INNOVATION
Community entrepreneurs transform Karachi slum.
EVIDENCE
Organic farming is better for biodiversity.
CLEANER CLEANING
Non-toxic dry-cleaning.
FANTASTIC NO PLASTIC
Fighting plastic litter.
Regulars
Letters to the Editors
Reviews
WANDERINGS IN THE BYWAYS
Review of The Laughter of Foxes
Review of The Gendered Atom
THE ART OF SCIENCE • John Lane
Review of Homage to Gaia
Review of The Labyrinth of Technology
THE ROGUE STATES OF AMERICA • Andy Rowell
Review of Rogue State
Review of No More Throw-Away People