Technology: dream or nightmare?
Issue 208 • September/October 2001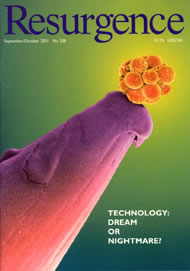 Buy a copy of this issue
Become a member and receive 6 issues a year
Contents
Key
Free for all to view
Free for members to view
Not available
Welcome
Technology
QUESTIONING THE UNQUESTIONED • Langdon Winner
The question is, "Why are we developing this technology in the first place?
FORFEITING THE FUTURE • Bill Joy
Powerful new technologies threaten life on Earth and raise moral issues.
TV and computers facilitate the centralization of global corporate power.
We need a global debate about the ethics of genetic engineering.
Carnival could be a model for culture.
We must have independent scientists free from corporate funding.
If the US deploys weapons in space, war will follow.
Computers undermine and marginalize non-Western societies.
Technology is a double-edged sword.
How do we achieve sustainable lifestyles?
We must endow our children with a healthy future.
"When the gods made time, they made plenty of it."
The mobile phone restricts greater mobility.
A Car-Free Day evolves into a lifestyle.
Can technology help to clean up business practice?
Streamlining nature for profit comes at a great cost.
The Arts
The paintings of Marianne Werefkin are imbued with spiritual radiance.
Frontline
YOUNG AT HEART
Toddlers mix with old-timers.
MOTHERS UNITE
Information is the key to action.
LEADING THE WAY
Banning lead products.
NATURAL SOLUTIONS
Weeds are welcome.
Regulars
Perspectives
Letters to the Editors
Reviews
Review of It Didn't Happen Here
Review of Arthur Boyd: Art and Life
Review of One Market Under God
Review of Digital Futures
Review of Sandro Botticelli: Picture Cycle for Dante's Divine Comedy
Review of Christopher Lloyd's Garden Flowers
BOOKS IN BRIEF
Review of Extract from The Breakdown of Nations