Crafts for Christmas
Issue 209 • November/December 2001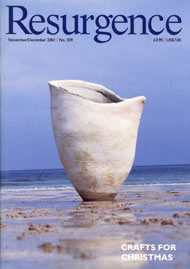 Buy a copy of this issue
Become a member and receive 6 issues a year
Contents
Key
Free for all to view
Free for members to view
Not available
Welcome
Crafts
A decent tradition of work.
What is the place of craft in a full world?
Crafts celebrate the marriage of skill and tradition.
Craft's new counter-culture.
Renewal and transformation through craft.
Craft is not just a country pursuit.
New attitudes to creativity break down the art/craft divide.
The legacy of the Leach family.
LEARNING FROM A MASTER • Joanna Bird
Recollections of working with a great potter.
The renaissance of the local shoemaker.
Craft Directory
Some things are too precious to be cast aside.
Education
Crafts provide a practical and profound way of connecting with nature.
The Arts
The visionary art of Nicky Loutit.
India Diary
Gujarat keeps faith with Gandhi and crafts.
Frontline
Real bread is part of personal and planetary health.
Wood produces many delights and surprises.
Topsoil is beloved of gardeners, but subsoil is the cobber's delight.
GROWING AND CHANGING • John Warnes
The joys of working with living materials.
Extending basketry into the realm of nature-art.
The hidden wonders of deep sea mud.
Re-igniting the creative spark.
Comment
A nonviolent response to terrorism.
Regulars
Reviews
Review of Fast Food Nation
Review of Gaia's Kitchen