A sense of belonging
Issue 211 • March/April 2002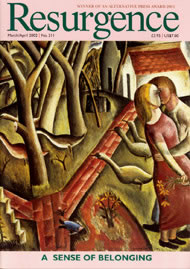 Buy a copy of this issue
Become a member and receive 6 issues a year
Contents
Key
Free for all to view
Free for members to view
Not available
Welcome
Spirituality
Nature is the revelation of the spirit. further.
Science
Gaia theory gives a new view of evolution.
September 11
Understanding the roots of terrorism.
America needs to search its soul.
Refugees
Globalization is the root of much human suffering.
Nonviolence
Resolving conflicts without violence.
I was surrounded by a group of tough characters.
Earth Restoration
The essential work of the 21st century.
Co-operating with nature brings benefits.
Environmental recovery goes hand-in-hand with economic recovery.
Could farmers be paid for mitigating climate change?
Earth remineralization.
Tinker's Bubble leads the way in low-impact living.
Frontline
A Colombian example of sustainable living.
We need to boycott plastic wine stoppers.
Angolan national park restoration.
A PLANT FOR THE FUTURE • Ron Blonder
Hemp is the source of many products.
The Skies
The true costs of aviation.
Regulars
Letters to the Editors
India Diary
The Mahatma's wisdom informs work in India today.
The Arts
Craft: NATIONAL TREASURES • Sandy Brown
Our rich ceramic pottery heritage.
Walter Bailey's art.
In search of radiance.
Reviews
Review of Trees Be Company
LOST IN OUR OWN LAND • Ros Coward
Review of The Other Side of Eden
Review of Breaking Free
ONLY AN EYE, BUT WHAT AN EYE! • John Lane
Review of Atget the Pioneer, The English Angel
Review of Naming the Enemy