Challenge at Johannesburg
Issue 214 • September/October 2002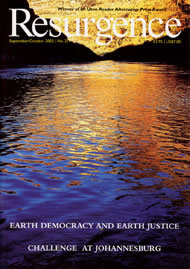 Buy a copy of this issue
Become a member and receive 6 issues a year
Contents
Key
Free for all to view
Free for members to view
Not available
Welcome
Feature Articles
FAIRNESS IN A FRAGILE WORLD • Wolfgang Sachs
Equity cannot be separated from ecology.
For the real summit, visit SOMOHO.
Launching a decade of commitment to Earth Democracy.
GANDHI AND DEVELOPMENT • Ela Gandhi
The Mahatma is more relevant in South Africa today than ever before.
Forgiveness is a miracle.
A SACRED MOUNTAIN • Kittisaro
The gift of humility.
Safeguarding the curative arts.
Invisible' people build hope in small places.
RHETORIC AND REALITY • Eddie Koch
The effects of eco-tourism.
Recognising the rights of all living beings.
Rebuilding true security in an age of insecurity.
TEN PRINCIPLES OF EARTH DEMOCRACY
The rights of the Earth community.
Human governance must be consistent with universal laws.
The misuse of ecosystems is unjust.
Beyond sustainable consumption.
The emerging alliance of world religions and ecology.
Life is being adjusted to fit in with technology.
COMMUNITY AND COURAGE • John Daniel
Looking back on September 11.
Regulars
The Occasional Didymus

• John Moat
Letters to the Editors
The Arts
The art of the Bushman shamans reveals the spirit world.
Frontline
INSPIRATIONAL ECO-VILLAGE • Mark Swilling
Reviews
FOR INTERDEPENDENCE, NOT INDEPENDENCE • James Sainsbury
Review of On Identity
FROM HATRED TO HEALING • Polly McLean
Review of No Future Without Forgiveness
Review of Architecture of Silence and Architecture of Truth
Review of Propaganda and the Public Mind
Review of Waterlog