Myth of Prosperity
Issue 217 • March/April 2003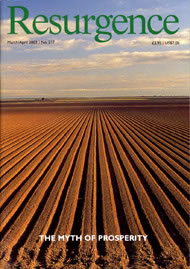 Buy a copy of this issue
Become a member and receive 6 issues a year
Contents
Key
Free for all to view
Free for members to view
Not available
Welcome
Feature Articles
Chasing that ephemeral and elusive state of 'happiness'.
RICH IN THINGS, POOR IN TIME • Heinrich Böll
A modern parable.
JOYLESS GROWTH • Ed Mayo
It's time to adopt new models of prosperity.
A NECESSARY SIMPLICITY • David Cadman
Do less, be more
An ecofeminist perspective.
THE SEVEN MYTHS OF INDUSTRIAL AGRICULTURE
Photo Feature
True health and wealth lie with the land.
The evolution of our national compulsion.
There is no sacrifice without love.
The builders of arks are those working to protect and restore wild lands.
In Albania, there is plenty of money for the military, but environmental improvements must wait.
The urban crisis might prompt many Turks to return to their rural roots.
IN PRAISE OF INEFFICIENCY • Rajesh Shah
Serendipity is the gift of disorganisation.
Democracy is no guarantee against the abuse of human rights.
Alone and alive.
Organisms are born out of Earth, are sustained by Earth and in death, return to Earth for rebirth.
We should open our eyes and let the world inside.Art
Until we have an organic sense of life, there can be no creative society.
IN SEARCH OF AWARENESS • John Lane
The paintings of John Danvers.
Exploring inner beauty through rhythm, balance, proportion and harmony.
Frontline
RELEARNING OLD TRICKS
Getting away from corporate seed sellers.
TOBIN OR NOT TOBIN?
Discouraging financial speculation.
Regulars
Letters to the Editors
Reviews
Review of A 'wide-angle' view of some recent fiction.
Review of Feasta Review 1
Review of Straw Dogs
Review of The Future of Life