Futility of War
Issue 218 • May/June 2003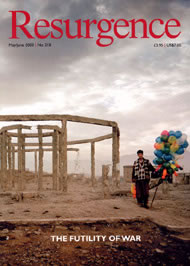 Buy a copy of this issue
Become a member and receive 6 issues a year
Contents
Key
Free for all to view
Free for members to view
Not available
Welcome
Feature Articles
We must work seriously for peace.
CLASH OF CIVILISATIONS • John Mohawk
Rethinking basic assumptions.
America is the first hyperpower in history.
Terrorism can't be bombed out of existence.
The unseen victims of war.
The war on terror is also a war of terror.
The West has waged war on Iraq since 1991.
Peace is impossible in an unfair world.
Motor vehicles are responsible for one third of global oil use.
Will cricketers choose not to play in the UK?
THE MADNESS OF SEPTEMBER 11 • Maurice Ash
The Tao that can be spoken of is not the Tao that is.
Accompanied by the photographs of Sebastião Salgado.
Prospects for Peace
Injustice is a weapon of mass destruction.
Where does security come from?
A letter to America.
A thought for the day.
Christianity and violence are incompatible.
Addressing the roots of conflict.
Breaking the cycle of violence.
A new initiative for nonviolent conflict resolution.
Promoting nonviolent communication.
Nonviolence is the weapon of the brave.
Changing behaviour which leads to conflict.
PEACE RESOURCE DIRECTORY
The global is local and the local is global
Hindus and Muslims mingle for the blessings of a Sufi saint.
Regulars
Letters to the Editors
The Arts
The art of Christopher Wood.
Reviews
Review of Henry Moore: Writings and Conversations
Review of You Are, Therefore I Am
Review of Unequal Protection
Review of Slow Food
Review of Fatal Harvest
Review of Travels in the Genetically Modified Zone
Review of Elderwoman
Review of The Philosophers' Secret Fire
Review of The Divine Right of Capital
SEEING THE WORLD AFRESH • John Lane
Review of Matthias Grünewald and Henri Cartier- Bresson: Landscape/Townscape
Review of The Selected Letters of Bertrand Russell