Science and Spirituality
Issue 220 • September/October 2003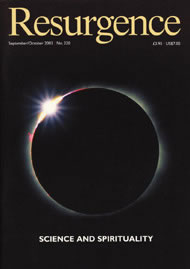 Buy a copy of this issue
Become a member and receive 6 issues a year
Contents
Key
Free for all to view
Free for members to view
Not available
Welcome
Feature Articles
SCIENCE AND SPIRITUALITY • Katy Redmond
Complementary or contradictory?
PLANETARY HEALING • John Todd
An ecologist's personal journey.
Beyond science, behind spirit.
Explaining telepathy and other phenomena.
The trivialisation of nature.
Sustainability at Highgrove.
It is time to examine the relationship between economic growth and social wellbeing
Turning Kerala's black gold to green.
Stories of six remarkable Indian women.
Frontline
Fair trade may save the Ussuri ecosystem and culture.
Photo Feature
The Arts
The last paintings of John Napper.
Regulars
Perspectives
Letters to the Editors
Reviews
Review of Rivers and Tides
THE BEAUTY OF ISLAM • John Lane
Review of Islamic Art and Architecture and The Mosque
Review of The Green Holiday Guide
Review of Alternative Approaches to Education
Review of Against the Machine
Review of Ecovillage Living
Review of Radical Ecopsychology
PROCESS OF INITIATION • John Moat
Review of African Ceremonies
Review of Agri-Culture
Review of Margot McLean