Natural Governance
Issue 222 • January/February 2004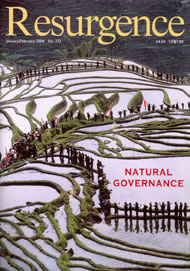 Buy a copy of this issue
Become a member and receive 6 issues a year
Contents
Key
Free for all to view
Free for members to view
Not available
Welcome
Feature Articles
A NEW GANDHIAN MOMENT? • Richard Falk
War must be made illegal.
Localisation - coming soon wherever you are.
Ecological wellbeing is the cornerstone of survival.
POLITICS WITH PURPOSE • Herman Daly
If there's no higher purpose to life, then what is the point of engaging in policy-making?
We need a Citizens' Jury to determine scientific priorities on nanotechnology.
The story of life is encoded in the landscape around us.
Fast-lane living ranks high in the list of pseudo-satisfiers.
We urgently need a World Environment Court.
Linking-up with our friends in America.
Stories of people who are 'being the change they want to see in the world'.
The Arts
Ken Kiff's art resonates with soul and science.
Celebrating Sarasvati - goddess of the arts, learning and wisdom.
In the lap of sublime majesty.
Frontline
The replastering of the Mosque of Djenné.
The Ashden Awards for Sustainable Energy.
Protesting by prostrating.
Regulars
Visionaries

- Kathleen Raine • Peter Abbs
Letters to the Editors
Reviews
Review of Alternatives to Economic Globalisation
Review of The Unconquerable World
Review of American Power and the New Mandarins and The New Rulers of the World
WORLD ENOUGH, AND TIME • Andy Hone
Review of How the Universe Got Its Spots
Review of Islam, Postmodernism and Other Futures
Review of The Secret, Oryx and Crake and Mr Golightly's Holiday
Review of A Sacred Trust
TREASURES IN STONE • John Lane
Review of The Temples of Angkor and Ruins of Angkor in Cambodia in 1909
Review of Tales from the Bazaars
REBUILDING AN APPETITE • Tim Lang
Review of Foodstuff: Living in an age of feast and famine and Home Grown: The case for local food in a global market
Review of The Ten Trusts
Review of Elephantoms
RESURGENCE PARTNERS