The Heat is On
Issue 224 • May/June 2004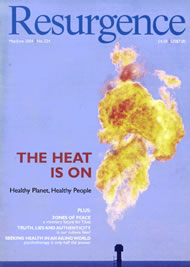 Buy a copy of this issue
Become a member and receive 6 issues a year
Contents
Key
Free for all to view
Free for members to view
Not available
Welcome
HEALTHY PLANET, HEALTHY PEOPLE • Satish Kumar
Feature Articles
To live in harmony with our planet we need a rapid global awakening.
We can discover the source of most of our problems by looking within ourselves.
UNNECESSARY EXPERIMENTS • Ray Greek
Testing medicines on animals only benefits big business.
SEEKING HEALTH IN AN AILING WORLD • Mary-Jayne Rust
Personal pain, grief and social breakdown are intimately connected to environmental distress.
Restoring health is more important than suppressing illness.
We need to take care of the body before it becomes ill.
That which brings about a set of symptoms will also cure them.
We need nothing less than a revolution in our attitudes towards conception, pregnancy, birth and parenting.
A living from the land.
Universal mind opposes barriers, boundaries and bigotry.
Chris Drury: Speaking of Earth and other times.
Samdhong Rinpoche: Effecting change quietly, slowly and nonviolently.
TRUTH, LIES AND AUTHENTICITY • David Boyle
Authenticity means real food, real culture, real community, real medicine and real stories.
A celebration of the literary festival at Dartington Hall.
GANDHI AND GLOBALISATION • Ken Martin
Sowing the seeds of sustainability in India.
Frontline
Exploring the many facets of Intercultural Community Gardens
Homes of hope.
Regulars
Up the Elephant and Round the Castle

- ON BECOMING NOCTURNAL • David Nicholson-Lord
Touchstone

- A SIGN FROM SEYMOUR • Colin Hodgetts
Crafts

- OF SEA AND SHORE • Sandy Brown
Letters to the Editors
Reviews
THE ACT OF OBSERVATION • John Lane
Review of Henri Cartier-Bresson
Review of Winifred Nicholson in Scotland
In My Own Words MYTHS FOR CHANGE • Stephen Karcher
Review of Total I Ching
ALL OUR JOURNEYS • John Moat
Review of Workshop: A Moveable Feast
A PERSONAL ODYSSEY • Mark Kidel
Review of Broken Music
Review of Eve Balfour
Review of High Tide
OUR GLOBAL RITE OF PASSAGE • Jordi Pigem
Review of Our Final Century and The 2030 Spike
THE GATEWAY OF RHYTHM • Maggie Lee
Review of Flowforms
Review of Conversing With Paradise