Dialogue with Nature
Issue 227 • November/December 2004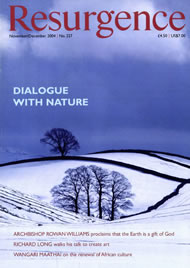 Buy a copy of this issue
Become a member and receive 6 issues a year
Contents
Key
Free for all to view
Free for members to view
Not available
Welcome
CELEBRATE CHRISTMAS WITHOUT CONSUMING THE EARTH • Satish Kumar
Feature Articles
Changing the myths we live by.
DIALOGUE WITH NATURE • Mark Kidel
Richard Long creates art while walking across a field; there is something of the pilgrim in him.
A letter to our European friends.
DEVELOPMENT AND RELIGION • Satish Kumar
The route to sustainable development is through the gift of service to the world and the sharing of the Earth's gifts.
There were many good things in Africa before colonialism.
We need to strengthen the people.
Pollution of the environment is made more certain through the pollution of people's minds.
Reviving the health of local communities.
The biodynamic farming practised at Tablehurst is a spiritually evolved method of cultivation.
It is better to have the pains of peace than the agonies of war.
An ancient craft is being revived.
The Anokhi way of creating patterns and possibilities.
The future of 'making' in the twenty-first century.
"The straight line is godless and immoral," said architect and artist Friedensreich Hundertwasser.
The ethos "May this film be of benefit to all beings" encapsulates the difference between Sacred Cinema and Hollywood.
Through music and sculpture, films and farming, Marcus Vergette is a poetic witness.
Two great British passions are celebrated in one outstanding exhibition.
Regulars
Letters to the Editors
Frontline
Rethinking building techniques.
Instead of saving for the future, build that future now.
Introducing Fairly Traded photography.
Reviews
In My Own Words LONGING FOR REAL LIFE • Mary Grey
In My Own Words SIGNS OF HOPE • Paul Kingsnorth
Review of Mindful Conservatism
Review of Awakening Universe
Review of Heart Seeds
EMPTYING THE GOLDEN CHALICE • Peter Lang
Review of Real World Economic Outlook
Review of Where We Belong
A WORLD CONTAINING MANY WORLDS • Sophie Style
Review of The Zapatista Reader
Review of Heart of the Country
Review of The Breaking of Nations
Review of Brick: A World History
Review of Sandy Brown, A Monograph
Review of Shigeru Ban
Review of A Vegan Taste of the Middle East