Join A Movement for the Wellbeing of People and Planet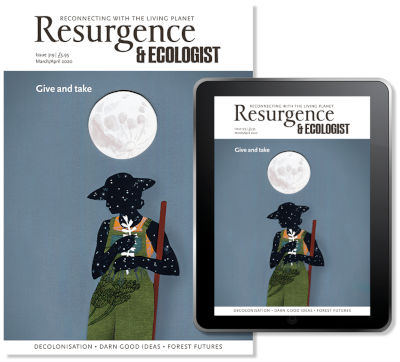 At a time when the crises in the world can seem ever more grim, Resurgence is a much-needed source of hope, inspiration and practical proposals - an essential survival guide in difficult times.
Caroline Lucas, Green Party, MEP
Become a reader of this change-makers magazine for as little as £19.20 a year
A far cry from the doom and gloom of mainstream media, Resurgence & Ecologist magazine offers holistic, progressive and practical solutions to the most pressing issues of our time. It unites an inspired community of those seeking a future in which humanity can live in harmony with itself and with nature.
This trailblazing publication connects readers with visionaries in social and environmental justice, ethical living, wellbeing, spirituality, activism, nature-connection and the arts. Published by an educational charity, The Resurgence Trust, this much-loved magazine has been a leading voice in the social and environmental justice movements for over 50 years.
This beautifully illustrated publication is a hope-inspiring read that supports the wellbeing of its readers in these uncertain times. It is an essential resource for all those that believe a better world is possible.
Read reviews of Resurgence & Ecologist
20% off Membership
Become a member of The Resurgence Trust, the educational charity that publishes Resurgence & Ecologist and you will:
receive 6 bimonthly (print/digital) issues of Resurgence & Ecologist a year
gain online access to its 50+ year archive of timeless, thought-leading articles
support the Trust's charitable mission to inform and transform worldviews in order to create a just future for all
receive updates on the Trust's celebrated events programme, giving you the opportunity to connect with like-minded people and share ideas that have the power to create change
Use promotional code Z83 at checkout
Offer applies to new print and digital only.
Shining a light on the cultural, spiritual and environmental aspects of life that are so crucial to our wellbeing and yet so easily neglected. We need voices like this"
Hugh Fearnley-Whittingstall
Just £28.80 a year (UK only)*
Just £36.80 a year*
Just £19.20 a year*
* After 20% discount. New members only, print and digital.
Use promotional code Z83 during check out to claim 20% off gift membership and share inspiration, hope and wisdom with a loved one.
Resurgence & Ecologist Reviews
"Resurgence got it right, time after time, when most of the media got it wrong. Resurgence quietly points the way." — Andrew Marr, BBC Correspondent
"Resurgence has never been more relevant or central to the really important issues facing us all." — Monty Don
"Inspiring stories, practical examples, visionary proposals, stunning graphics, historic insights, international perspectives, and beautiful poetry. Resurgence is a valued friend and essential resource for all who believe that another world is possible." — David Korten, author of When Corporations Rule the World and board chair, Positive Futures Network
"Resurgence is easily the best magazine I know, and I look forward eagerly to every issue. I feel when I read it that there is hope for the world. Over and over again, Resurgence has restored confidence when previously it was flagging, and as I read it I feel that I am among like-minded friends." — Resurgence & Ecologist Reader
Past Contributors Include
Thich Nhat Hanh, Caroline Lucas, Deepak Chopra, Vandana Shiva, Phillip Pullman, Louisa Adjoa Parker, George Monbiot, Mya-Rose Craig, Charles Eisenstien, Winona Laduke, Michael Morpurgo, Polly Higgins, Andrew Marr, Isabella Tree, Noam Chomsky, Gail Bradbrook, HRH Prince of Wales and Anita Roddick.