Join Satish Kumar in protecting people and planet
Sharing ideas that have the power to create change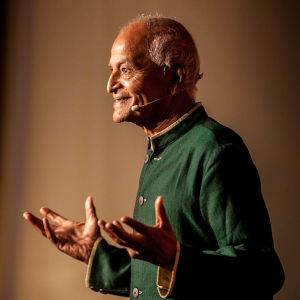 Peace-pilgrim, life-long activist and former monk, Satish Kumar has devoted his life to campaigning for ecological regeneration, social justice and spiritual fulfilment. He has been inspiring global change for over 50 years.
Sharing visions of a just future for all, Satish served as the editor of Resurgence magazine for 43 years, making him the UK's longest-serving editor of the same publication. During this time, he founded The Resurgence Trust, an educational charity that informs social and environmental justice through its change-making publications and internationally acclaimed events.
20% off membership to The Resurgence Trust
Satish invites you to join him in protecting people and planet by becoming a member of The Resurgence Trust with a special rate of 20% off. Your membership will enable Resurgence to contribute to a future in which humanity can live in harmony with itself and with nature. It will also entitle you to this charity's hope-filled magazine, Resurgence & Ecologist. Satish now serves as editor-emeritus of this publication and continues to contribute to each bi-monthly issue of this print or digital magazine, inspiring change around the world.
Find out more about Resurgence & Ecologist magazine
Use promotional code Z36 at checkout to get 20% off a membership subscription.
for as little as £28.80 a year (UK rate)
or
for as little as £19.20 a year *
* After 20% discount. New members only.
For gift memberships and memberships outside of the UK go here

Resurgence & Ecologist magazine
A far cry from the doom and gloom of mainstream media, Resurgence & Ecologist offers holistic, progressive and practical solutions to the most pressing issues of our time. This pioneering publication connects readers with visionaries, artists and change-makers as they explore themes such as ecological regeneration, ethical living, spirituality, activism, nature-connection, wellbeing and the arts.
Resurgence & Ecologist is an essential resource for all those that believe a better world is possible. Whilst supporting the wellbeing of its readers in these uncertain times, it has served as a driving force behind positive change for over 50 years. Voices such as these are needed now more than ever.
Resurgence & Ecologist Reviews
"There is no other magazine that covers the issues of our times, with truth and beauty, with courage and creativity. Resurgence & Ecologist are sowing the seeds of hope, of freedom, of the joy of living." — Dr Vandana Shiva
"Every time I open an issue of Resurgence & Ecologist my mind becomes serene, my sense of beauty more acute, and my resolve to work for a just and peaceful world is renewed." — Fritjof Capra
"Resurgence was ahead of its time in the beginning and remains so now, shining a light on the cultural, spiritual and environmental aspects of life that are so crucial to our wellbeing." — Hugh Fearnley-Whittingstall
"At a time when the crises in the world can seem ever more grim, Resurgence is a much-needed source of hope, inspiration and practical proposals - an essential survival guide in difficult times." — Caroline Lucas MP, Green Party
"Time spent reading Resurgence & Ecologist is something that I savour. Always blissfully designed and presented, it challenges and inspires in equal measure." — Joanna Lumley
"Resurgence is easily the best magazine I know, and I look forward eagerly to every issue. I feel when I read it that there is hope for the world. Over and over again, Resurgence has restored confidence when previously it was flagging, and as I read it, I feel that I am among like-minded friends." — Resurgence & Ecologist Reader
Past Contributors Include
Thich Nhat Hanh, Caroline Lucas, Deepak Chopra, Vandana Shiva, Phillip Pullman, Louisa Adjoa Parker, George Monbiot, Mya-Rose Craig, Charles Eisenstein, Winona Laduke, Michael Morpurgo, Polly Higgins, Andrew Marr, Isabella Tree, Noam Chomsky, Gail Bradbrook, HRH Prince of Wales and Anita Roddick.