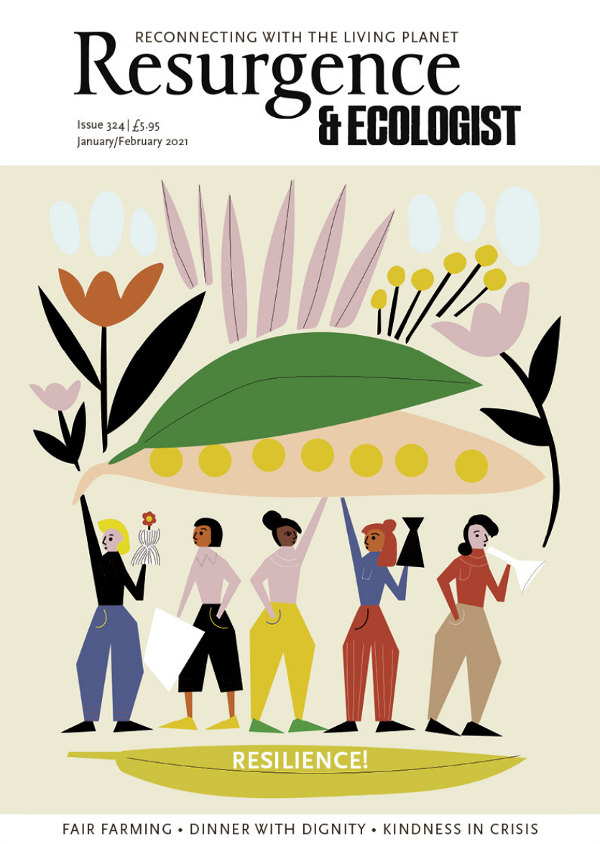 Join a Movement for the Wellbeing of People and Planet
Become a reader of this change-making magazine
"Resurgence is easily the best magazine I know, and I look forward eagerly to every issue. I feel when I read it that there is hope for the world." — Resurgence & Ecologist Reader
A far cry from the doom and gloom of mainstream media, Resurgence & Ecologist magazine recognises the interconnectedness of all life and offers solutions, alternatives and routes to a better future for all. This hope-inspiring read supports the wellbeing of its readers and is an essential resource for all those that believe a better world is possible.
Published by an educational charity, The Resurgence Trust, this trailblazing magazine connects readers with visionaries in social and environmental justice, wellbeing, spirituality, activism, ethical living, nature-connection and the arts. Through its beautifully-illustrated pages, Resurgence & Ecologist magazine seeks to contribute to a world in which humanity can live in harmony with itself and with nature.
"Time spent reading Resurgence & Ecologist is something that I savour. Always blissfully designed and presented, it challenges and inspires in equal measure." — Joanna Lumley
£5 off Membership
Become a member of The Resurgence Trust, the educational charity that publishes Resurgence & Ecologist, and you will:
Receive 6 bimonthly issues of Resurgence & Ecologist a year
Gain online access to its 50+ year archive of timeless, thought-leading articles
Support the Trust's charitable mission to inform and transform worldviews in order to create a just future for people and planet
Receive updates on the Trust's celebrated events programme, giving you the opportunity to connect with like-minded people and share ideas that have the power to create change
Just £31 a year*, 6 issues of Resurgence & Ecologist magazine (print format)
For gift memberships and memberships outside of the UK go here
*After £5 discount. New members only.
Go here for overseas and other membership options, including gift memberships
Use promotional code Z48 during check out to claim £5 off your membership.
More about The Resurgence Trust
As well as publishing Resurgence & Ecologist magazine, The Resurgence Trust also publishes The Ecologist - a free, online environmental news service. With over 3 million visitors a year, this publication and its global network of contributors shine a light on the actions of communities and campaigners as well as corporations and governments, sharing solutions for tackling the causes of climate and ecological breakdown.
Resurgence Events holds regular talks, courses, workshops and gatherings that cultivate care for the earth, enhance personal wellbeing and support resilient communities.
Some of these events are held at the Resurgence Centre, a place that nurtures community and culture in the heart of Hartland, North Devon, within an Area of Outstanding Natural Beauty.
The Resurgence Trust transforms worldview through the work of its founder, Satish Kumar, peace-pilgrim, former monk and life-long activist. Satish is an internationally sought-after speaker, teacher and author who has been inspiring worldwide change for over 50 years. In his 20s, Satish undertook a peace-pilgrimage for nuclear disarmament, walking without money from India to America. Now in his 80s, Satish has devoted his life to campaigning to creating a better world for all life.
Past Contributors include
Thich Nhat Hanh, Caroline Lucas, Deepak Chopra, Vandana Shiva, Phillip Pullman, Louisa Adjoa Parker, George Monbiot, Mya-Rose Craig, Charles Eisenstien, Winona Laduke, Michael Morpurgo, Polly Higgins, Andrew Marr, Isabella Tree, Noam Chomsky and Gail Bradbrook.