Enjoy a free digital issue of Resurgence & Ecologist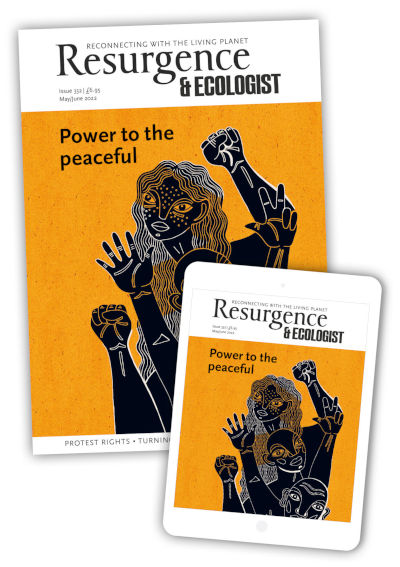 A hope-inspiring read for these times
Resurgence & Ecologist magazine addresses the environmental, social, and spiritual challenges and opportunities of our time. It provides a voice for change that is driven not by fear, but by a love of the Earth and its many life forms. Recognising the interconnectedness of the crises we face; it seeks to inform and inspire a just and thriving future for all.
This beautifully illustrated, trailblazing magazine connects readers with visionaries exploring nature and ecology, spiritually and philosophy, social and environmental justice as well as ethical living, wellbeing, and the arts. Resurgence & Ecologist is for all those who believe a better world is possible.
Download a free PDF issue
Prefer to read the magazine in print?
We'll provide a print sample copy at the special rate of just £3 (current cover price £6.95). You don't even have to pay the postage! You can choose to send the sample copy to a friend by adding an alternative shipping address when you proceed through checkout. A recent issue will be selected at random.
I feel when I read it there is hope for the world. As I read it I feel I am among like-minded friends
Resurgence Reader
Order a sample print issue £3
Receive 6 issues of Resurgence & Ecologist year
We hope you enjoy your free issue. You can receive six, hope-inspiring bi-monthly issues of Resurgence & Ecologist a year when you become a join Resurgence. As a member of The Resurgence Trust, you will also receive a range of other membership benefits and support this educational charity in informing and inspiring a better future for us all.
Become a member
The Resurgence Trust
The Resurgence Trust is an educational charity for ecological regeneration, social justice, and ethical living. The Trust produces Resurgence & Ecologist magazine, The Ecologist online news platform and Resurgence Events, all of which aim to protect the wellbeing of people and planet.