Earth Pilgrim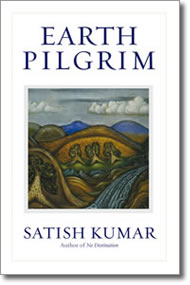 Satish Kumar has been a pilgrim ever since, at the age of eight, he joined the brotherhood of wandering Jain monks in his native India. In his new book Earth Pilgrim Satish draws on this personal experience and also his understanding of the spiritual traditions of both East and West.
Satish's new book Earth Pilgrim was published in 2009 by Green Books.
Earth Pilgrim Documentary
In 2008, Satish Kumar presented a 50-minute programme on the BBC as part of the Natural World series. A highly acclaimed documentary that mixed eastern philosophy with the western landscape of Dartmoor; the programme was watched by over 3.6 million people.
In this unique BBC 2 Natural World documentary Resurgence Editor Satish Kumar reflects on our connection to our natural environment. Using the traditional English landscape of Dartmoor as his natural muse he offers a very Indian perspective through the changing seasons. Through the film, he introduces the Dartmoor scenes and sights that most inspire him – gnarled oak woods, whirling starlings, rushing rivers, stags in rut, wild tracts of heather, cuckoos hungry for food, the metamorphosis of moths – and contemplates what they reveal, and the lessons they hold for humanity.
'I see the bees buzzing, collecting a little nectar here and a little nectar there. Never too much. Never a flower has complained that a bee has taken too much nectar away. Nature in balance. But this balance is tipping. Human beings go to nature and take, take, take, until all natural resources are depleted. Honey bees never do that. If I can learn that lesson of frugality and simplicity, I will be learning the art of living.'
Press coverage of Earth Pilgrim
Prepare yourself for a soul-searching journey. According to Satish Kumar, who will accompany you, most people don't feel enlightenment because they never get the chance to sit and think "under a tree, which is the true sustaining force on Earth". It would be easy to feel patronised by this film, but I came away feeling a better person just for watching it.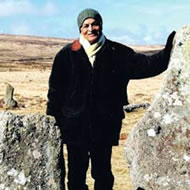 So why don't most of us know about Satish Kumar, whose face glows with inner goodness and whose ethos is an uncomplicated live and let live? He's editor of Resurgence, the ecological magazine, but he ought to be dominating mainstream media, instead of the celebrities that represent the antithesis of everything he stands for. Kumar's opinions about nature should be part of the national curriculum and our leaders should make his insightfulness an integral part of their manifestos. It would be a better world if Bush applied some of Kumar's principles – and meant them: "To learn the art of frugality and simplicity is to learn the art of living" and "Lead me from falsehood to truth, from fear to trust, from hate to love, from war to peace".
Inspired in the early 60s by Mahatma Gandhi, 18-year-old Kumar set off from his native India to make a peaceful protest against nuclear weapons. Some 8,000 miles later, he arrived in Washington DC after travelling through Russia, the Himalayas and Dartmoor in Devon – which captured his soul and is where he returned to live afterwards.
Dartmoor's wildlife and seasons make a suitably mouthwatering backdrop for Kumar to share his philosophies. Chanting a prayer while sitting in an ancient circle of stones is something most tv presenters would never get away with. But Kumar can. By the closing credits, you feel as though you've had a mental massage.
Review courtesy of Rachel Ashton/BBC Wildlife. For more coverage of upcoming wildlife programmes visit BBC Wildlife Magazine
More coverage of Earth Pilgrim