Readers' 'Groups • Topics for Discussion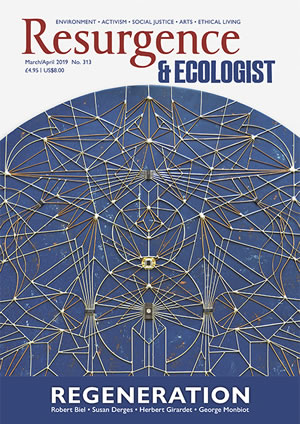 During your group meeting you could discuss an article from Resurgence & Ecologist. You could read out passages and summarise the salient points, or watch a Resurgence video clip.
On this page, you'll find a selection of articles that can be used as the basis for discussion. Ideally, you should circulate the article before the meeting. What's important is that everyone has the opportunity to share their views on the chosen topic.
At the heart of the Resurgence message is hope for the future, so we encourage you to consider positive perspectives on the key issues you discuss. Resurgence aims to inspire and enthuse, not just inform. So remember to steer a course towards accord, optimism, and shared joy at your meetings!

Articles from Resurgence & Ecologist magazine
May/Jun 2019 - A Global Rebellion by Farhana Yamin
How can we redesign human societies based on love, justice and planetary boundaries, and restore the damage we have done to the natural world?
Mar/Apr 2019 - Elegant Simplicity by Satish Kumar
How can we live well in an age of excess?
Jan/Feb 2019 - The Definition of Happiness by Russell Warfield
Can happiness only come from recognition of our dependency on one another and on Nature?
Nov/Dec 2019 - The Wild Frontier by Ros Coward
Is rewilding the answer to our ecological crisis?
Sep/Oct 2018 - Five Steps to Save Our Seas by Bianca Jagger
What more can we do to tackle plastic pollution?
Jul/Aug 2018 - How To Be A Good Forager by Kate Blincoe
A simple walk becomes an opportunity to gather food and reconnect with Nature. Why is foraging so rare?
May/Jun 2018 - Earth as Teacher, Earth as Client by James Thornton
If we are to create the world we want, we need to change our story. But how?