Resurgence: Building for the Future
Project update, 19 October 2018
Building work is underway.
A creative space for innovative ideas is taking shape.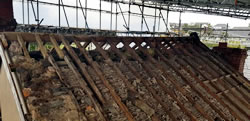 The builders have been on site for 5 weeks working on the improvements needed at the former Small School buildings to create our Centre for Education, Environment and the Arts in Hartland. They're moving swiftly - the roof has been removed in order to install the thermal insulation! We've found hidden stairways and exposed a fireplace we didn't know was there. The original stained glass windows from the front doors have been removed, and beautifully restored by a stained glass artist who generously gifted her time to do this.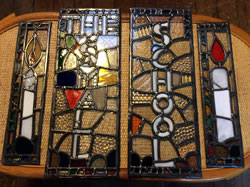 Running alongside the building work, were already thinking about the future programme of events and courses for next year. We're collaborating with key partners including the innovative Koa Tree based in Welcombe and Beaford which works with artists and communities in North Devon to find extraordinary ways to explore our land, lives and future.
With the support of the local community we will also create a forest garden and outdoor classroom, and local craftspeople will be making beautiful bespoke furniture for the centre, using recycled wood from within the school.
Once the building project is complete, The Resurgence Trust will be moving its offices there, as well as running a wide-range of educational and craft-based activities and courses. Our aim is for the Resurgence Centre for Education, the Environment and Arts at the Small School to become a focal point for learning and activities promoting the environment, raising awareness of ecological issues and promoting sustainability.
We look forward to welcoming you as a visitor when we open our doors in Summer 2019.
Resurgence Campaign Background
In November 2017 we ran a crowdfunder to secure a permanent home for The Resurgence Trust and build a centre for education, environment and the arts - a springboard for innovative ideas with a global impact. Through the campaign we raised a total of £109,000 for Resurgence in online and postal donations. A huge thank you to everyone who donated.
"It is time Resurgence had a home of its own! No publication has done more to raise awareness of the dangers to the environment of our throw away society. Now we need to make it secure for the next 50 years." — Michael Morpurgo, author, poet and playwright
We need your help to secure a permanent home for Resurgence
Resurgence Trust is a charity at the forefront of the environment movement - a beacon of hope in a changing world. The Trust produces Resurgence & Ecologist magazine, runs events and publishes the Ecologist website as platforms to share ideas and inspiration on sustainability, social justice and the arts. In 2016 Resurgence turned 50 and now the flagship magazine Resurgence & Ecologist and the Trust that produces it, urgently need a new home.

We need your help to make our vision for The Resurgence Trust a reality. We want to create a unique centre for education, environment and the arts - a centre that will embrace and reflect our commitment to living lightly on the Earth and provide a creative space for innovative ideas that will have a global impact.
You can still support our project to create a home for Resurgence by making a donation online, or by sending a donation in the post to: The Resurgence Trust, Ford House, Hartland, Bideford, Devon EX39 6EE. Cheques made payable to The Resurgence Trust.