Resurgence: Building for the Future
Project Update, October 2019
In October the Resurgence Centre featured as a key project in the LEADER 5 celebrations taking place to honour the achievements of this European grant funding.
As part of this project The Resurgence Trust has opened the centre for community use by working with local groups and businesses to develop a programme of activities and events that meet the needs of residents and provides a focal point for learning and shared values. These community activities operate alongside The Resurgence Trust's learning programmes and events, complimenting and widening the range of rural services available in the area.
Councillor Anna Dart, Leader of Torridge District Council said, "When the Small School closed in 2017 the Hartland community lost an important community space. I am really pleased that The Resurgence Trust, with support from North Devon+, has been able to provide a new centre for both the benefit of the local community and their own learning programmes. The Trust is a national charity that promotes sustainability, social justice and ethical living - they are a positive asset for Torridge and it is great to see them consolidate their roots in our District."
Read the full press release here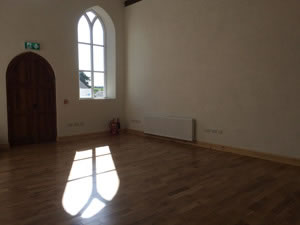 Update, September 2019
Our new centre in Hartland is finally ready and The Resurgence Trust has moved in! The new office space, with its carbon-negative rating, eco-refurbishment and forest garden, reflects our commitment to living well within a regenerative economy.
With the support of LEADER5* European grant funding through North Devon+ we have transformed the Chapel at the former Small School into an education, environmental and arts centre. The centre will be a focal point for learning and activities promoting the environment, raising awareness of ecological issues and promoting sustainability locally, regionally and nationally.
In September, we ran our first course at the centre alongside our partners at the Koa Tree. The first course was 'Natural Beekeeping for Beginners' with Phil Chandler, the barefoot beekeeper, who brought his years of experience to this wonderful introduction to beekeeping for our participants. The weekend course focused on the use of top bar hives and the myriad benefits for the bees and to us as bee keepers.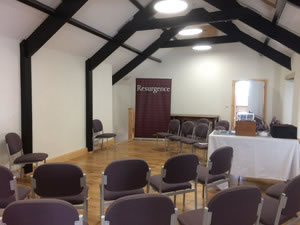 At the end of the month we ran a 3-day course on Regenerative Agriculture and farm planning led by the deeply knowledgeable Niels Corfield. The course covered all aspects of planning and managing an agroecological and regenerative holding and looked in detail at soil health and monitoring, agroforestry, planned grazing systems, composting, biochar, mixed farming systems planning tools and techniques for on-going farm assessment to name but a few.
In collaboration with Beaford, Resurgence also ran a 'Celebrate Your Heritage' exhibition in Hartland, which brought together stunning photographs from the James Ravillious (1972-1989) and Roger Deakins archive, including rarely seen images of Hartland.
The photographic exhibition was supported by audio histories recorded throughout North Devon and those attending had the opportunity to listen to the abridged audio files of the play HEFTED, a unique performance commissioned by Beaford, a rural arts outreach organisation based in Devon.
The Resurgence Trust will be shortly be appointing an Event Manager and an Education Officer to assist in the development of this centre of excellence - which will serve as a forum for sharing innovative ideas with a global impact within the UNESCO Biosphere Reserve.
Project update, 1 March 2019
The renovations and improvements on the new Resurgence Centre at the former Small School are nearing completion and we will be moving into our new offices within the next couple of months. It will be a busy time for us.
We are already working on our programme and on broadening our outreach. We will be having an open day once we are settled in, when anyone interested can come and see us and what we have been up to! As part of our programme, we will be working with Beaford community arts. We are hosting our first event in Hartland on 27th April, when Bristol-based trio the Boogaloo String Band will be playing their stomping mix of Americana and old-time tunes.
In the Autumn, we will also be hosting an Hidden Histories project alongside Beaford, based around the photographic archive of James Ravilious and Roger Deakins. We plan to host an exhibition of photographs spanning 100 years of the life and times of Hartland Parish. We will also be running events where people can share old photographs and stories about life in Hartland.
There is more information about the project and the eight parishes in North Devon that are taking part on the Beaford website and we will be sharing more information nearer the time. To find out more about Beaford's Hidden Histories project, or to book tickets for the Boogaloo String Band, visit: beaford.org.
Meanwhile, we are looking forward to getting settled in our new premises and to developing the programme of events. We have already planned three weekend courses in collaboration with the Koa Tree on Natural Beekeeping, Herbalism and Wild Herbs, and Sustainable Woodland Management.
If you would like more information on any of our activities and forthcoming courses please get in touch: info@resurgence.org
Project update, 19 October 2018
Building work is underway.
A creative space for innovative ideas is taking shape.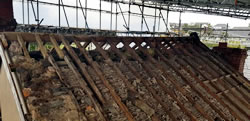 The builders have been on site for 5 weeks working on the improvements needed at the former Small School buildings to create our Centre for Education, Environment and the Arts in Hartland. They're moving swiftly - the roof has been removed in order to install the thermal insulation! We've found hidden stairways and exposed a fireplace we didn't know was there. The original stained glass windows from the front doors have been removed, and beautifully restored by a stained glass artist who generously gifted her time to do this.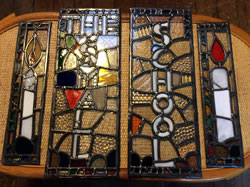 Running alongside the building work, were already thinking about the future programme of events and courses for next year. We're collaborating with key partners including the innovative Koa Tree based in Welcombe and Beaford which works with artists and communities in North Devon to find extraordinary ways to explore our land, lives and future.
With the support of the local community we will also create a forest garden and outdoor classroom, and local craftspeople will be making beautiful bespoke furniture for the centre, using recycled wood from within the school.
Once the building project is complete, The Resurgence Trust will be moving its offices there, as well as running a wide-range of educational and craft-based activities and courses. Our aim is for the Resurgence Centre for Education, the Environment and Arts at the Small School to become a focal point for learning and activities promoting the environment, raising awareness of ecological issues and promoting sustainability.
We look forward to welcoming you as a visitor when we open our doors in Summer 2019.
Resurgence Campaign Background
In November 2017 we ran a crowdfunder to secure a permanent home for The Resurgence Trust and build a centre for education, environment and the arts - a springboard for innovative ideas with a global impact. Through the campaign we raised a total of £109,000 for Resurgence in online and postal donations. A huge thank you to everyone who donated.
"It is time Resurgence had a home of its own! No publication has done more to raise awareness of the dangers to the environment of our throw away society. Now we need to make it secure for the next 50 years." — Michael Morpurgo, author, poet and playwright
We need your help to secure a permanent home for Resurgence
Resurgence Trust is a charity at the forefront of the environment movement - a beacon of hope in a changing world. The Trust produces Resurgence & Ecologist magazine, runs events and publishes the Ecologist website as platforms to share ideas and inspiration on sustainability, social justice and the arts. In 2016 Resurgence turned 50 and now the flagship magazine Resurgence & Ecologist and the Trust that produces it, urgently need a new home.

We need your help to make our vision for The Resurgence Trust a reality. We want to create a unique centre for education, environment and the arts - a centre that will embrace and reflect our commitment to living lightly on the Earth and provide a creative space for innovative ideas that will have a global impact.
You can still support our project to create a home for Resurgence by making a donation online, or by sending a donation in the post to: The Resurgence Trust, The Resurgence Centre, Fore Street, Hartland, Bideford, Devon EX39 6AB. Cheques made payable to The Resurgence Trust.