An Ode To Gaia
A Fundraising Dinner and Auction in aid of The Resurgence Trust.
Wednesday 25th November 2015, 19:00
Venue
The Long Room, Lord's Cricket Ground, London.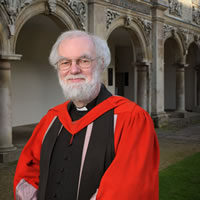 Guest of Honour
Dr Rowan Williams, former Archbishop of Canterbury.
In the lead-up to next year's 50th anniversary of Resurgence, we are planning a 50th anniversary fundraising dinner and auction at The Long Room, Lords for the evening of 25 November.
We are honoured to have the former Archbishop of Canterbury Dr Rowan Williams as the guest speaker on the evening.
The auction items will include fabulous works of art and unique experiences.
Money raised from this fundraiser will enable us to put on a three-day high-profile festival in Oxford next year.
If you would like any other information on this fundraising dinner, then please contact Sharon Garfinkel, email: sharon@resurgence.org
The Resurgence Trust is an educational charity that promote ecological sustainability, social justice and spiritual value through the publication of Resurgence & Ecologist magazine, events and via this Resurgence website and the Ecologist website.
The Resurgence Trust is a registered educational charity (no. 1120414).
The Resurgence Story
For more information about The Resurgence Trust, please watch this short video:
Resurgence Story from Simolab-Creative AV on Vimeo.