Fundraising Dinner and Auction in aid of The Resurgence Trust
This event has sold out
This year's fundraising dinner and auction will take place 29 Nov 2018 at the new Petersham Nurseries in Covent Garden.
Expect another wonderful night, with many friends of Resurgence celebrating the charity's unique contribution to environmental education.
Ticket Price: £200 each
Venue: Petersham Nurseries, Floral Court, London, WC2E 8JD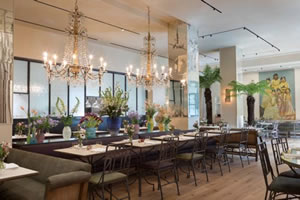 We are delighted that this year's Fundraising Dinner will be hosted at Petersham Nurseries. Petersham Nurseries brings nature and elegance to the heart of Covent Garden with an unparalleled lifestyle destination that captures the unique spirit and rare beauty of its original home in Richmond.
A place of calm away from the hustle and bustle of the city, The Petersham is an elegant à la Carte restaurant. Drawing inspiration from the family home, Petersham House in Richmond, the interiors demonstrate the Boglione's passion for contemporary art, Murano glassware and understated grandeur, reflecting their personal tastes and collections.
Respecting the Slow Food philosophy of Good, Clean and Fair and the traditions on which Petersham Nurseries Richmond was founded, The Petersham offers on the finest seasonal produce, focusing on quality ingredients and Italian flavours.
The owners of Petersham Nurseries - the Boglione family - are long-term supporters of The Resurgence Trust and are 100% behind this event. They are generously sponsoring the event's catering and venue costs in aid of the charity, The Resurgence Trust.
More information on the venue can be read here
Money raised from the event will go towards the ongoing work of The Resurgence Trust which includes publishing Resurgence & Ecologist magazine six times a year, running The Ecologist website as a free service and organising a range of educational events.
Petersham Photo: Paul Craig
The Resurgence Story
A video about the work of The Resurgence Trust.
Video by Simolab-Creative AV.