The Resurgence Poetry Prize 2017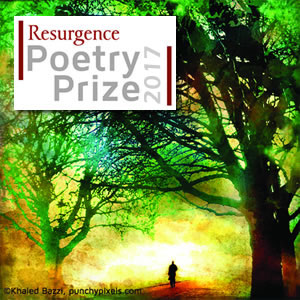 About the competition
The Resurgence Poetry Prize with The Poetry School is the world's first major ecopoetry award. Three prizes will be awarded each year for original and previously unpublished ecopoems in English. All details are on the Rules page.
With a first prize of £5,000 for the best single poem embracing ecological themes, the award ranks amongst the highest of any English language single poem competition. Second prize is £2,000 and third prize £1,000.
Prize Founders
Founded in the spring of 2014 by the former UK Poet Laureate Sir Andrew Motion, actress and green campaigner Joanna Lumley, and entrepreneur and environmentalist Peter Phelps, the Resurgence Poetry Prize reflects the founders' shared passion for and commitment to poems that investigate and challenge the interrelationship between nature and human culture.
The Prize operates under the auspices of the Resurgence Trust, publishers of Resurgence & Ecologist magazine. In 2017, the Resurgence Trust partnered with The Poetry School, the UK's largest provider of poetry education, to run the prize. The Prize is governed by an executive board appointed by The Resurgence Trust which includes long-term peace and environment activist Satish Kumar, the Founders and other representatives, and which is chaired by Sir Andrew Motion. Peter Phelps is the Prize's Executive Director, responsible for the overall management and development of the competition.
The judges for 2017 are Lavinia Greenlaw and Mina Gorji.
The deadline for the 2017 competition is Aug 17 2017.