Resurgence in Action
Annual Summer Camp at Green and Away
30 Jul - 02 Aug 2015
Be inspired, learn, discuss, explore ideas, recharge, rest and enjoy - experience Resurgence in Action in a small corner of paradise near Malvern.
The Resurgence summer camp gives me the fuel to carry on living and promoting eco-justice
Ian Mowll
An opportunity to engage with Resurgence & Ecologist readers and speakers for a weekend of inspiring talks, discussions, workshops, music, craft and walks. Join us at this innovative event and enjoy sustainable living in action.
Delicious vegetarian food included in the weekend ticket price.
The gathering is a small, friendly camp with a maximum of 140 people near Malvern, Worcestershire. The event is run off-grid. You can read more about the site at Green and Away here.
Read Susan Clark's article The Small Camp with the Big message, published on the Ecologist website
Programme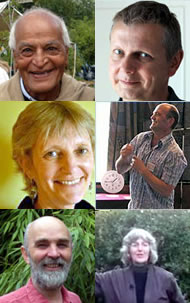 Speakers
Paul Mobbs, environmental investigator and campaigner: Ecological Futures
Julian Rose, author and environmental activist
Matt Harvey, author and poet
Joe Hoare, laughter coach: awakening the laughing Buddha
Satish Kumar, Editor-in-Chief, Resurgence & Ecologist
Nicola Peel, Eyes of Gaia
Alex Nunn, Action for Happiness
Workshops
Qi Kong - Dong Sticks (bamboo stick exercises): June Mitchell
Harmony Singing around the fire: Janne Tooby and Toni Gilligan
Indian Raga and embodied voicework: Will Tooby
Music
Carolyn Hillyer and Nigel Shaw
Performance
Philip Ralph: The One Eyed Man
Miti Desai: Indian Dance
Resurgence in Action is fundraising event for The Resurgence Trust, an educational charity dedicated to raising awareness of the key ecological and spiritual issues of our time. Registered charity no. 1120414.