Resurgence Summer Camp 2018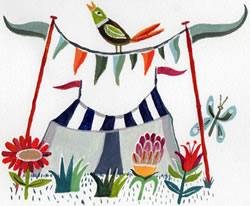 Explore creative ideas for change
Fri 13 Jul - Sun 15 Jul 2018
Bransford, Worcester
Join us for the Resurgence Summer camp - a small, friendly, off-grid gathering at Green & Away - and share ideas for a greener future.
Everything I imagined it to be - wonderful poetry, talks, music, stories, food, cake, bar, showers, weather, wildflower walk, location, solar panels, people, baby bell tent... inspired!
Linda Scruton
The theme of this year's Resurgence summer camp is 'Exploring creative ideas for change'. In these challenging times, we will be sharing positive ideas and actions to create change and build the future that we aspire to.
Resurgence summer camp is a weekend of inspiring talks, workshops, music, storytelling, poetry and craft - a weekend that brings the ideas and ethos of Resurgence & Ecologist to life.
This annual gathering is unique and limited to just 140 places, so please book early to avoid disappointment.
Early Bird tickets available until 01 May 2018!
Ticket price includes all meals - so you can enjoy delicious vegetarian food cooked on site by the lovely Green & Away volunteers.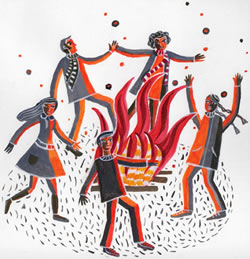 We are once again holding the Resurgence summer camp at the glorious Green & Away campsite - described by a previous participant as 'a small corner of paradise'.
Please read this information provided by Green & Away, which contains important information about the site, what to bring, what not to bring and how to get there:
Green & Away: Important Information
Detailed travel information will be sent with confirmation of your booking.
Take a look at the site - pictures from Green & Away
Speakers
Dr Julian Abel: Compassionate Communities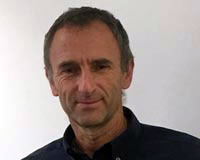 Dr Julian Abel is a consultant in palliative care and Director of Compassionate Communities UK. His pioneering work has demonstrated the importance of warm, social interaction to human wellbeing and highlighted the urgent need to revive and sustain our community life. Building compassionate communities is a future cornerstone of our health care service and Dr Julian Abel will explain why this movement is so vital. The Compassionate Communities project featured in the March/April issue of Resurgence & Ecologist.
www.thegroundswellproject.com/julian-abel/
Satish Kumar: Soil, Soul, Society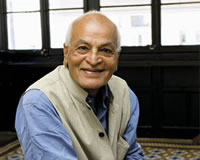 A former Jain monk and long-term peace and environment activist, Satish Kumar has been quietly setting the Global Agenda for change for over 50 years.
In Soil, Soul, Society - A New Trinity For Our Time, Satish Kumar elucidates the eastern wisdom for the west. In his talk Satish will explore the idea that catering for the natural environment (Soil), maintaining personal wellbeing (Soul) and upholding human values (Society) are the moral imperatives of our time.
A speaker of international acclaim, Satish draws on ancient wisdom to address current problems, delivering inspiring and uplifting talks.
Oliver Tickell: Marine Plastic Pollution - Holding Offenders Accountable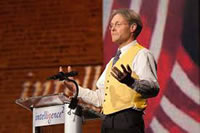 Every day there's more bad news about plastic waste that's littering the oceans, but the world's response so far has been woefully inadequate to the scale and severity of the problem. Environmental Journalist and former Editor of the Ecologist, Oliver Tickell has recently published a report: 'International Law and Marine Plastic Pollution - Holding Offenders Accountable'. This reminds the world's governments of their existing legal obligations to prevent waste plastic from entering the oceans, empowering civil society to insist on rapid compliance with international law.
Read his article in Resurgence & Ecologist
JoJo Mehta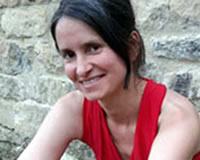 Jojo Mehta is a writer, speaker and advocate in earth activism. She co-founded Mission LifeForce with ecocide law expert Polly Higgins in November 2017. Mission LifeForce is a hugely exciting global campaign to add ECOCIDE to the list of international crimes at the International Criminal Court (ICC) in The Hague. Ecocide is serious loss, damage or destruction of ecosystems, and includes climate or cultural damage as well as direct ecological damage. Locally, Jojo is known for her work on the anti-incinerator campaign: No Monster Incinerator in Gloucestershire (NoMoInGlo).
Performance, music and storytelling
Matt Harvey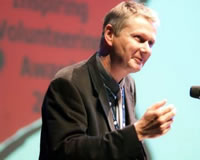 Matt Harvey: Writer, poet, enemy of all that's difficult and upsetting, Matt's way with words has taken him from Totnes to the Wimbledon Tennis Championships via Saturday Live, the Edinburgh Festival and the Work section of the Guardian. He hosted Wondermentalist - Radio 4's comedy-infused, musically enhanced interactive poetry cabaret - and is the author of The Hole in the Sum of my Parts (Poetry Trust, 2005), Where Earwigs Dare (Green Books, 2010) and The Element in the Room: poems inspired by renewable energy (Quixotic Press, 2014). He writes a regular column in Resurgence & Ecologist.
Mobius Loop
Mobius Loop create gloriously eccentric gypsy folk stories, fusing world music and conscious rap with eruptions of free-form dance charged with an intimately powerful and intense energetic live performance.
Watch them on Youtube
Awantika Dubey: Classical Indian Raga and dance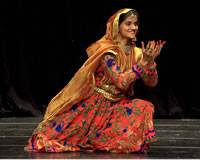 Awantika sings Classical Indian Ragas, Semi-Classical and Bundeli folk songs of which she has collected some 2000 from around her home town of Khajuraho. She is an exceptional Kathak dancer. She won the University Youth Festival of Indian Classical Vocal competition and regularly sings on All India Radio. She sensitively combines song and dance and is inspired by nature. She founded the 'Awantika Arts Centre for Music and Dance' in Khajuraho where she trains local and international students. Awantika composes, performs and directs internationally.
Sally Pomme Clayton: Storytelling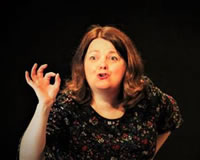 Sally Pomme Clayton is a writer and performance storyteller. She co-founded The Company of Storytellers in 1985, spearheading storytelling in the UK. She has created solo performances, and collaborations with artists, musicians and directors. Sally tours throughout Britain and internationally and has performed with The London Philharmonic Orchestra, Welsh National Opera and The London Sinfonietta. Sally has published ten children's books, including her latest book Greek myths - tales of sun, stone and sea illustrated by Jane Ray. She was commissioned by The British Museum to write and perform six interlinked stories for 'A History of the world in 100 objects.' She has written for radio and theatre and was winner of the BBC 'Write Out Loud' award for new writing for radio.
Workshops
Julian Wood: Random Acts of Kindness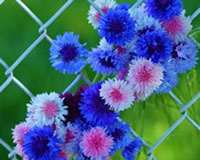 Daily life gives us countless opportunities to live thoughtfully and tenderly. In this workshop, we will share creative ideas on how to make our kindness and love more visible in our communities and lives every day. Julian will also share his experience from setting up the 'Random Acts of Kindness Bristol Collective'.
No skills needed apart from an open and kind heart.
Additional Workshops
Additional workshops include yoga, a conversation café, craft and singing.
Keep a look out for programme updates.
Join our mailing list to stay informed
We will update this webpage as more details about the programme become available. Programme details may change.
Booking
The event is run off-grid at Green & Away. Before booking, please read their Frequently Asked Questions for details of the camp site and facilities.
For information about bringing children to the camp, read Information for Families.
You can also book by phone, tel: +44 (0) 1237441293.
Please phone or email info@resurgence.org to book for young children or to book for individual days.
You can also book by post
Details of your booking including your name and dietary preference will be shared with Green & Away to facilitate the smooth running of this event.
On receipt of your booking, you will receive confirmation of your place by email. A detailed timetable will be sent nearer the time.
Accommodation
Use secret code: resurgence2018 then go to July 2018 to book.
The ticket prices above exclude camping. Please book separately for camping, whether you wish to bring your own tent, or hire a luxury bell tent or yurt from Green & Away.
Green & Away have a number of tents to hire that have already been put up. They range from standard, unfurnished tents to furnished bell tents, complete with mattress and bedding and one yurt. To book accommodation directly with G&A, please go to this web page, scroll down to the box which says 'Got a secret code?', enter resurgence2018 and then select July 2018 from the calendar. This will bring up the Resurgence dates and allow you to book.
You can also book accommodation by calling: 03000 110165.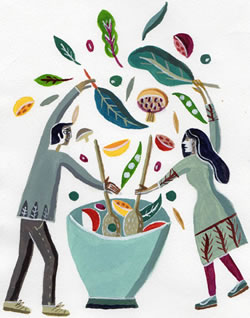 Food
The delicious food is lovingly prepared using the quality, local where possible, mostly-organic ingredients and served by the lovely volunteers at Green & Away. The ticket prices above include all meals (breakfast, lunch and dinner).
The food will be vegetarian. Green & Away can also provide vegan meals, and cater for allergies/intolerances, such as gluten, so long as at least 2 weeks' notice is given. If you are booking less than 2 weeks before the event starts, Green & Away may not be able to cater for dietary intolerances other than gluten. If you have other dietary preferences, Green & Away respectfully ask that you bring supplementary food with you.
Media Resources
High resolution images for press and media can be obtained through our Media Resources page
Refund Policy
Requests made prior to 01 Jun 2018 will be considered at our discretion and will be subject to a £10 admin charge. After this date, refunds will only be made if the event is full and we are able to reallocate the space.
For more information email: info@resurgence.org
The Resurgence Summer camp is a fundraising event for The Resurgence Trust, an educational charity registered in England and Wales, Charity number: 1120414.
Illustrations on this page by Linda Scott