Resurgence Summer Camp 2019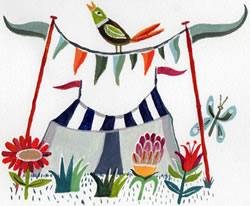 Explore creative ideas for change
Fri 12 Jul - Sun 14 Jul 2019
Venue: Green &amp Away, The Fold, Bransford, Worcester, WR6 5JB
Join us for the Resurgence Summer camp - a small, friendly, off-grid gathering at Green & Away - and share ideas for a greener future.
Everything I imagined it to be - wonderful poetry, talks, music, stories, food, cake, bar, showers, weather, wildflower walk, location, solar panels, people, baby bell tent... inspired!
Linda Scruton
Resurgence summer camp is a weekend of inspiring talks, workshops, music, storytelling, poetry and craft - a weekend that brings the ideas and ethos of Resurgence & Ecologist to life.
This annual gathering is unique and limited to just 140 places.
Ticket price includes all meals - so you can enjoy delicious vegetarian food cooked on site by the lovely Green & Away volunteers.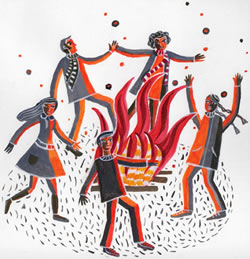 We are once again holding the Resurgence summer camp at the glorious Green & Away campsite - described by a previous participant as 'a small corner of paradise'.
Please read this information provided by Green & Away, which contains important information about the site, what to bring, what not to bring and how to get there:
Detailed travel information will be sent with confirmation of your booking.
Take a look at the site - pictures from Green & Away
Programme
Speakers
Natalie Fee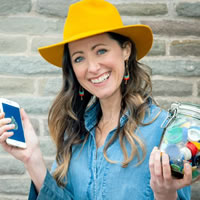 Natalie Fee is an author, presenter, environmental campaigner and founder of City to Sea, a non-profit organisation running campaigns to stop plastic pollution at source. Their primary campaigns are 'Refill', a free tap water initiative promoting reuse across the UK and 'Switch the Stick', their successful cotton bud campaign run in 2016 which called on all UK retailers to switch from plastic to paper stem buds, stopping over 300 tonnes a year of single-use plastic at source.
@nataliefee
@citytosea_
citytosea.org.uk
tedxbristol.com/about/person/natalie_fee
https://www.worldfuturecouncil.org/p/herbert-girardet/
Herbert Girardet: Regeneration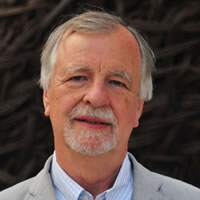 Professor Herbert Girardet is a cultural ecologist, working as an international consultant and author. He is a member of the Club of Rome, the World Future Council and the World Academy of Art and Science, and a trustee of The Resurgence Trust. He is a former chairman of the Bristol-based Schumacher Society. He is a recipient of a UN Global 500 Award for outstanding environmental achievements. He has developed sustainability strategies for London and, as 'Thinker in Residence', for Adelaide, South Australia. His 13 books include Earthrise (1992), The Gaia Atlas of Cities (1992 and 1996); Cities, People, Planet - Urban Development and Climate Change (2004 and 2008); A Renewable World - Energy, Ecology, Equality (2009), and Creating Regenerative Cities (2014).
https://www.worldfuturecouncil.org/p/herbert-girardet/
Roger Higman: Network of Wellbeing (N0W)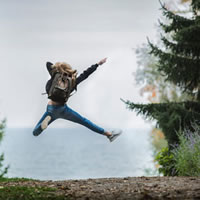 NOW share our vision of a world where everyone's wellbeing needs are met within the planet's natural limits. NOW believe that a person's wellbeing depends on the wellbeing of the community in which they live and work, while the wellbeing of their community depends on the wellbeing of society as a whole, and the long-term health of the natural world on which we all depend. Through events, seminars and workshops, NOW support an active network of people and organisations who care about wellbeing. There are many ways for you to connect with the network, including coming along to our workshop at the Resurgence summer camp.
https://networkofwellbeing.org
Satish Kumar: Elegant Simplicity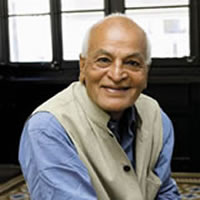 Satish Kumar is the Editor Emeritus of Resurgence & Ecologist. A former monk and long-term peace and environment activist, Satish Kumar has been quietly setting the global agenda for change for over 50 years. Inspired in his early 20s by the example of the British peace activist Bertrand Russell, Satish embarked on an 8,000-mile peace pilgrimage. Carrying no money, he walked from India to America, via Moscow, London and Paris, to deliver a humble packet of 'peace tea' to the leaders of the world's then four nuclear powers. In 1973 Satish settled in the UK becoming the editor of Resurgence magazine. He has been the guiding spirit behind a number of now internationally respected ecological and educational ventures. He co-founded Schumacher College in South Devon, where he is a Visiting Fellow. His autobiography, No Destination, first published by Green Books in 1978, has sold over 50,000 copies.
James Szymankiewicz: No Health Without Planetary Health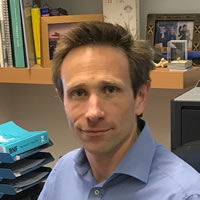 James Szymankiewicz is a GP in N. Devon, and Director of Strategy and Partnerships at the Centre for Sustainable Healthcare. He is Chair of Devon Local Nature Partnership which focuses on enhancing the natural environment and reconnecting communities with the natural world. A passionate environmentalist, James is a founder member of Plastic Free North Devon. He believes that helping communities reconnect with the natural world brings enormous benefits. James also works to raise awareness amongst the healthcare community of the critical dependence of human health on a healthy environment. It is our responsibility to ensure health care is environmentally sustainable and to use our collective voice to lobby our leaders for change. A proud member of Doctors for Extinction Rebellion, he is confident that the time is now to realise the legislative changes that our natural world so desperately needs.
Twitter @Drjamesszy
https://youtu.be/rzs1i8ntKfs
https://sustainablehealthcare.org.uk/who-we-are/staff/james-szymankiewicz
Music and performance
Malcolm and Josh Green: Gone Cuckoo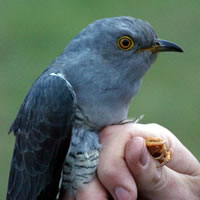 Myth and science meet in this compelling tale of an iconic bird's journey - told through story and song by Malcolm and Joshua Green. 'Intimate and affecting', 'a tour de force of musicianship and performance art'. This is a reworked version of a longer and more technical show that toured venues in UK during 2017 and 2018. 'Father and son Malcolm and Josh Green have created a tour de force of environmental art. Gone Cuckoo mixes Josh's enchanting voice, hilarious acting and wonderfully improvised music making with Malcolm Green's spellbinding gift for telling tales. Their shared story blends wonder and humour and joy with a profoundly serious message about the loss of British wildlife. Above all Gone Cuckoo is a love song to the most celebrated bird of the northern summer.' - Mark Cocker, author of Crow Country.
https://seizetheday.org
https://youtu.be/abtx3tXjRwE
Seize The Day: radical folk music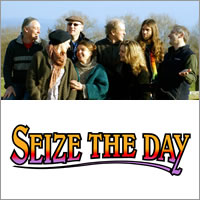 Drawing on traditional roots from Britain and beyond, making music for our common future. Seize The Day are an English acoustic band in the radical folk tradition, but drawing on global musical roots. They write songs to celebrate, inspire and support the liberation of life. Whatever needs to change or be defended in this world, Seize The Day sing to make you laugh about it, cry about it, dance about it - maybe even inspire you to believe that you can DO something about it! Seize The Day came out of Britain's Road Protest Movement in 1996, when Theo and Shannon began playing together at the site of the Newbury Bypass. They play at major British festivals, (Glastonbury, Beautiful Days, etc), and a host of smaller ones. You're just as likely to meet them at your nearest frontline protest, whether it's against fracking, or nuclear weapons, or fossil fuels. Seize The Day have toured American towns and cities, Indian farming villages, and visited Ireland, Palestine and the big WTO protests in Prague and Seattle. Nowadays they don't like to fly because of the CO2 emissions of air-travel.
https://seizetheday.org
https://youtu.be/abtx3tXjRwE
Sika: sound journey, talk and evening performance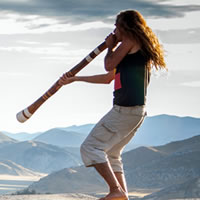 Sika is a multimedia artist and pioneer of sound journeys. His work reflects a lifetime of listening to the rhythms of nature. Sika's beloved collection of instruments includes didjeridoo, drums, native flutes, rattles and Taonga Puoro. He is recognised by significant Maori, Native American and Aboriginal elders, including the Yuin tribe of South Australia. Based in New Zealand, Sika offers sound journeys internationally and tours across the United Kingdom each year. Sika plays at a range of festivals and event venues, from Carnglaze Cavern to Stonehenge. He has delighted many people with his sacred music and storytelling at previous Resurgence summer camps, and we are honoured that he is joining us again this year. Alongside sound journeys, Sika also produces music, albums and works of fine art.
Workshops
Make your own notebook/sketchbook: Rachel Marsh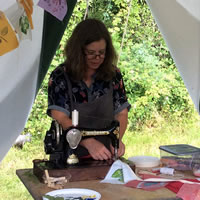 Learn some key bookbinding skills and make your own notebook or sketchbook with Rachel Marsh, graphic designer at Resurgence & Ecologist. We'll be making a pamphlet stitched single section book with a simple cover. Participants will leave with their own book and the knowledge to make any sized pamphlet book for their own projects in future. All materials and equipment is provided. Expect folding, cutting, measuring, stitching and paper sniffing, but not necessarily in that order. The workshop is suitable for beginners and/or anyone who forgot to pack their notebook for summer camp. Rachel Marsh is a letterpress printer and makes artist's books when she's not designing Resurgence & Ecologist magazine.
Earth Protectors: Trish Dickinson & Amelie Hunnebeck Wells (conversation café)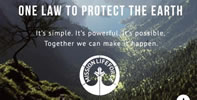 There is a growing movement of Earth Protectors - people working to stop ecocide and create a new law, continuing the legacy of Polly Higgins. Trish and Amelie will introduce the work of Earth Protectors and invite you to participate in a conversation café enquiry around the theme of 'Earth Protectors are a powerful force for change'. The loose café structure, within small groups, will give us an opportunity to explore our shared and individual visions around how to prevent Ecocide and protect our precious planet.
Creative space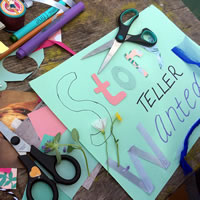 Julian Wood who ran a workshop last year on Random Acts of Kindness returns this year to provide a space to express your creativity. Drop in workshop, materials will be provided, just bring your ideas and start creating. Julian is founder member of the Random Acts of Kindness Bristol Collective.
tinyurl.com/julian-wood-random-acts
Yoga: Joanna Al-Zuhairi
Joanna is a mental health nurse, yoga teacher, homeopath and meditator. As a mental health nurse she organises stress management classes and spiritual mental health workshops. Joanna has taught yoga for 16 years in various settings: health clubs, mental health groups and private classes.
www.naturelax.co.uk/facilitator.php
Yoga: Carl Hargreaves
Carl has studied yoga since 1990, and began teaching in 1998. He teaches regular classes in north London, provides one-to-one yoga sessions and runs yoga and meditation workshops. Carl was taught to meditate from the age of five and went on to do martial arts, gymnastics and a variety of sports as he grew up. He read Philosophy (PPE) at Oriel College Oxford, and went on to train and work professionally as a contemporary dancer. "Yoga is better than anything else I am aware of to support me through life's journey. Yoga affords a more accurate perspective on things. When I practice yoga I see reality more clearly." Please bring a yoga mat or blanket if possible.
Open Space Sessions
Open Space is an opportunity to work together with whatever comes up from our weekend. You can choose to offer sessions or to attend sessions, which can be on something you are passionate about (for instance Extinction Rebellion or the role out of 5G), or perhaps a continuation of a talk or workshop that people would like to explore further. If you have something that you would like to share, come along and participate in an interactive session. If there's something you'd really like to know about, you can suggest a topic and see what emerges.
Open Mic around the Fire
The open mic around the fire returns this year. This is your chance to share a song, dance, sing, or perform solo or with friends. Bring instruments, a poem, a song and join in the entertainment.
Keep a look out for programme updates.
Join our mailing list to stay informed
The Resurgence Summer camp is a fundraising event for The Resurgence Trust, an educational charity registered in England and Wales, Charity number: 1120414.
Illustrations on this page by Linda Scott