Resurgence Summer Gathering 2013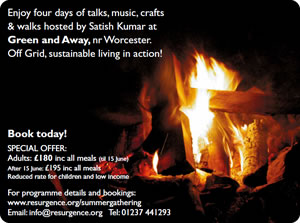 Thu 25 Jul at 15:00 until Sun 28 Jul 2013 at 15:00
The Resurgence Summer Gathering brings together Resurgence & Ecologist readers, speakers and supporters for a weekend of stimulating talks, discussion, music, craft and walks. The gathering is a small, friendly camp with a maximum of 140 people near Malvern, Worcestershire.
The event is run entirely off-grid and offers the chance to experience sustainable living in action. You can read more about the site at Green and Away here.
The Programme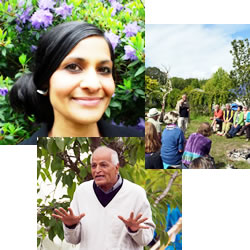 Speakers
Satish Kumar, Editor-in-Chief at Resurgence & Ecologist: Soil, Soul, Society
Shantena Augusto Sabbadini, Associate Director of the Pari Center for New Learning: The Valley Spirit, Lao Tzu's Tao Te Ching
Donnachadh McCarthy, founder of 3 Acorns Eco-audits: How Do We Save the Planet from The Prostitute State?
Natalie Bennett, Green Party Leader
Miriam Darlington, creative writing tutor: Writing the wild: thinking with animals
Mumta Ito, founder of the International Centre for Wholistic Law: Evolving Earth Law: Co-creating a new legal paradigm
Workshops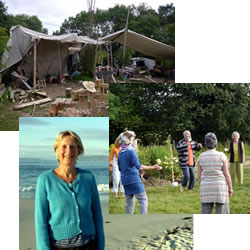 Meditation, Movement and Voice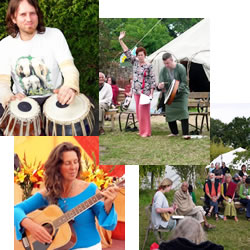 Tai Chi Movement for Wellbeing, with Teena Gould
Traditional Vietnamese Chi Gong with bamboo sticks, with June Mitchell
Harmony Singing Around The Fire: Janne Tooby and Toni Gilligan
Morning voice and body work: Janne and Will Tooby
Indian Raga and embodied voicework: Will Tooby
Chi Gong with bamboo sticks: June Mitchell
Performance Poetry and Storytelling
Music
Kora Colours: Ravi Ji and Tabla Tom entertain with songs, chants and music from around the world
Open night session hosted by Helen and Niall including poetry, performance and song — bring something along to share!
Caitlin and Tablatom: mantra concert
The Resurgence Summer Gathering is an opportunity to engage with Resurgence & Ecologist readers and to help raise money for The Resurgence Trust, an educational charity dedicated to raising awareness of the key ecological and spiritual issues of our time. Registered charity no. 1120414.