Resurgence Festival of Wellbeing
The shift from economic growth to growth in wellbeing
Sat 12 Oct 2013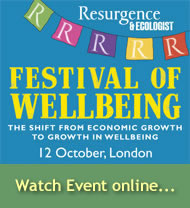 Bishopsgate Institute, 230 Bishopsgate, London EC2M 4QH
How we can move away from an obsession with economic growth to a growth in wellbeing?
Join us for a day of inspiring talks, music, poetry, dance and good food!
Speakers include: Tony Juniper, Satish Kumar, Ben Okri, Rowan Williams, Vandana Shiva and more.
Speakers, Poets and Performers
Download the full programme and timetable

Putting energy into wellbeing
Juliet Davenport • chief executive, Good Energy
On Growing happy: how beauty and biodiversity is central to our well-being
Alys Fowler • weekly columnist on gardening for The Guardian @AlysFowler
A WELL Society: Women's Education, Literacy to Leadership
Lynne Franks • creator, the Seed Network
Natural Health Service
Tony Juniper • author of 'What Has Nature Ever Done For Us?'
Soil, Soul and Society
Satish Kumar • editor-in-chief, Resurgence & Ecologist magazine
Ben Okri • poet and Booker prize-winning novelist
Campaigning, corporates and climate change: a line in the sand
Tamsin Omond • environmental activist and journalist @tamsinomond
Ruth Padel • poet, novelist and author of The Mara Crossing
James Sainsbury • chairman of The Resurgence Trust
Seed Freedom as the well being of all
Vandana Shiva - campaigner for seed freedom
Genuine Leisure
Edward Skidelsky • co-author of How Much is Enough?
Singer/songwriter
Sophie Stammers
Khavita Kaur • Indian classical dancer
'What the body knows'?
Rowan Williams • former Archbishop of Canterbury and Master of Magdalene College, Cambridge
Inequality, Sustainability and a Higher Quality of Life
Richard Wilkinson • co-founder, The Equality Trust
A more interesting future
Theodore Zeldin • philosopher, president, The Oxford Muse and author of An Intimate History of Humanity
This event will raise money for The Resurgence Trust, an educational charity (no. 1120414).