Resurgence Festival of Wellbeing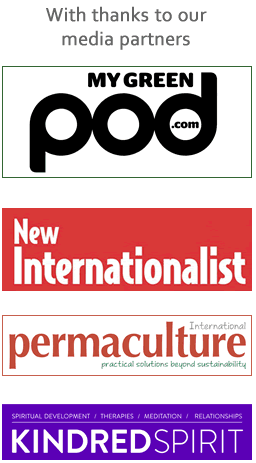 Sat 23 Sep 2017 • 10:00-18:00
At the St James's Church, Piccadilly, London W1J 9LL
From Economic Growth to Growth in Wellbeing
A sense of wellbeing is what really matters in life. We need a new movement of awareness and action to bring meaning to life and to put community wellbeing at the heart of political and social decision-making. Instead of economic growth, we need growth in wellbeing. The festival of wellbeing will explore these ideas - expect inspiring speakers and entertainment.
Speakers, Poets And Performers include:

Siân Berry: a Green member of the London Assembly and a Camden councillor for Highgate. As well as being the author of numerous environmental books, Siân founded the Alliance against Urban 4x4s in 2003, and worked as a roads and sustainable transport campaigner for the charity Campaign for Better Transport. Since being elected to the London Assembly Siân has worked on housing issues faced by the social rent and private rental sector, focused on young people and the police as well as raising issues around equality.

Paula Byrne: Paula is an acclaimed non-fiction author. She is also the chief executive of ReLit, the charity for literature and mental health. Her latest work is The Genius of Jane Austen: How she loved the theatre and why she is a hit in Hollywood. She has written five bestselling biographies. Perdita: The Life of Mary Robinson was a Sunday Times top ten bestseller, a Richard & Judy Book Club selection, a British Books Best Read and longlisted for the Samuel Johnson Prize.
Imtiaz Dharker: a poet, artist and documentary film-maker. Awarded the Queen's Gold Medal for Poetry in 2014, recipient of the Cholmondley Award and a Fellow of the Royal Society of Literature, her collections include Purdah (Oxford University Press), Postcards from god, I speak for the devil and The terrorist at my table (all published by Penguin India and Bloodaxe Books UK), Leaving Fingerprints and Over the Moon (Bloodaxe Books UK). Her poems are on the British GCSE and A Level English syllabus.

Jatinder Singh Durhailay: a British contemporary artist of Sikh Indian heritage. Trained in the Indian classical singing art called Dhrupad and playing among other the rare instruments that are the Dilruba and Taus. In April 2017 the artist released his first album The Last Ballad of Mardana which was premiered at VACANT in Tokyo.
Tim Jackson: Professor of Sustainable Development at the University of Surrey and Director of Centre for the Understanding of Sustainable Prosperity (CUSP) which aims to explore the moral, cultural, social, political and economic dimensions of prosperity on a finite planet. Tim has been at the forefront of academic work on sustainability for over two decades. In addition to his academic work, Tim is an award-winning dramatist with numerous radio writing credits for the BBC.
Satish Kumar: A former Jain monk and long-term peace and environment activist, Satish has been editor-in-chief of Resurgence for over 40 years. Prior to this he was the editor-in-chief of the publication for over 40 years. Satish is the founder of Schumacher College and the Small School, Devon. His autobiography, No Destination, first published by Green Books in 1978, has sold over 50,000 copies.
Maya Kumar Mitchell: Maya lives in Catalonia, Spain, where she teaches tango and English as a foreign language. She also writes about the environment and nature, always trying to understand the philosophical and psychological underbelly of our current predicament.
Ahmad Nawaz: A 16 year-old from Pakistan who survived a brutal attack at his school in which 150 pupils were killed. He now campaigns for education and peace and believes this is the only way to defeat terrorism and make the world a peaceful place to live.
Catty Pearson: Catty is a singer-songwriter based in London. She wrote her first song after a meditation retreat that she attended just a few years ago, prior to working on a Bruce Parry documentary with the Penan Tribe in Borneo. Music is one of her 'soul' focuses. Her music is honest; her voice affects you and takes you on an internal journey.
James Sainsbury OBE: James is chairman of The Resurgence Trust. He is also the President of Home-Start UK of which he was previously Chair of Trustees and among other things, he is also a patron of Best Beginnings, a UK charity which aims to reduce child health inequalities by creating and distributing innovative resources for families and professionals.
Sir Anthony Seldon: Vice-Chancellor of The University of Buckingham since 2015, is a leading contemporary historian, educationalist, commentator and political author. He was head of Brighton College and of Wellington College, two of Britain's leading independent schools. He is author of over 40 books on contemporary history and was the co-founder and first director of the Centre for Contemporary British History and is co-founder of Action for Happiness.
James Thornton: James is the founding CEO of ClientEarth. He is an environmental lawyer and social entrepreneur. He founded ClientEarth - Europe's first public interest environmental law organisation - in 2007. Now operating globally, it uses advocacy, litigation and research to address the greatest challenges of our time - including biodiversity loss, climate change, and toxic chemicals.
Lunch
St James's Piccadilly, is located in the heart of central London with many cafes and restaurants within close walking distance. The timetable allocates one and a half hours for lunch. Spend it as you see fitting. Feel free to explore the local vibrant area or even enjoy an autumnal stroll in nearby Green Park.
Refund Policy
Requests made prior to 25 August will be considered at our discretion and will be subject to a £10 administration charge. After this date, refunds will only be made if the event is full and we are able to resell the ticket.
This event will raise money for The Resurgence Trust, an educational charity (no. 1120414).
Photo credits: Imtiaz Dharker: Photograph by Ayesha Dharker; Jatinder Dilruba, Tokyo 2016: Photograph by Johanna Tagada