Seeding the Future
Donate Now
Issue 244

Sep/Oct 2007
The Green Imperative
Reviews
Seeding the Future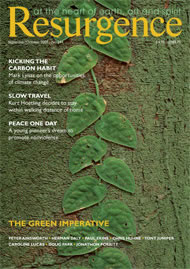 Cover: Aroid 1 Panama Rainforest Photograph: Art Wolfe
A Safe and Sustainable World: The Promise of Ecological Design Nancy Jack Todd Island Press, USA, 2006, £12.50
THIS TIMELY BOOK is required reading for anyone starting or running a green value-driven enterprise. It is all there – visionary beginnings, early successes, growing pains, consolidation, financial struggles, restructuring, endgame and eventual rebirth. As this fascinating tale unfolds, the detailed accounts range from inspirational to nuts-and-bolts and hold many vital messages and lessons. It certainly struck chords in me as I recalled similar stages in green ventures I've been involved with over the years from Gaia Publishing and Ecological Design Association to Gaia International Architects.
Coming from out of 1960s North America, biologist John Todd, artist and writer Nancy Jack Todd and student friend Bill McLarney knew that a radically different future must be found and that, somehow, ecology was the key. They wanted to join forces with others and make a plan – but what was it and how could they find out? Finally, in 1970 they formed a non-profit group, rather provokingly called it New Alchemy and launched it with the bold credo: "To restore the land, protect the seas, and inform the Earth's Stewards". An old farm with twelve sandy acres on Cape Cod became their base, officially for 'research and education' but in reality a loose-knit collective of close friends with a shared vision.
Experiments in sustainability in food, energy and shelter were first priorities. Even then, working with Robert Rodale, they produced organic food and experimented with companion planting, raised beds and composting. But it was the desire to extend the growing season that led to early trials with small greenhouses and plastic domes that were to be so significant later. Since his student days McLarney had been fascinated with fish and was soon making fish ponds and introducing special fish, such as Tilapia, with an eye to intensive Southeast Asian 'polyculture'. This evolved into highly productive, above-ground tanks made of translucent fibreglass called 'solar-algae tanks' with fish inside and 'hydroponic' lettuces and cucumbers on top.
On the energy front, with their firm anti-nuclear stance, the New Alchemists looked to prove that the future was in renewables. Building all kinds of home-made wind turbine to generate electricity and raise water, they soon became leading-edge in this new technology. Together with super-insulation, air-tight structures and heat exchangers, these successes convinced them that they were on the right track.
The role of "informing the Earth's Stewards" started in a delightfully informal way with an open day each week. Saturday 'potluck' organic lunches soon became the social high point, the conversation sometimes elevated to brilliant discussion when notables such as E. F. Schumacher and Whole Earth founder Stewart Brand joined the group. As visitor numbers grew, guided tours and workshops became the norm, followed by school visits and more formal youth training schemes. Outreach beyond the Farm (as it was known) was boosted by publishing newsletters, bulletins and the famous Journal of The New Alchemists which became a much-thumbed lifeline for budding ecologists far and wide.
Seeking always to integrate everything – food, energy, education and research – brought the New Alchemists to the inevitable next stage: shelter. American houses were (and are) conspicuous consumers of resources and producers of waste and pollution. The New Alchemists would build an 'Ark' bioshelter as a mini-ecosystem of plants, animals and fish, with energy from the sun and wind, i.e. a net producer of resources. Completed in 1976, the Cape Cod Ark, with its fertile vegetable, fruit and salad beds and controlled solar environment via rock heat storage and solar-algae ponds, was a milestone way ahead of its time. It was a living laboratory, and it worked. With its south-facing glazed and solar-panelled front, its earth-bermed back and steep Cape Cod roofline, it splendidly blended old and new. Next came the Bucky Dome, opened by ninety-year-old Buckminster Fuller himself and covered with revolutionary insulating argon-filled 'pillows' (similar to the Eden Project now). Success with their "ego-less architecture" continued with the second Ark on Prince Edward Island, Canada – this time with living-quarters too. Opened in 1976 by charismatic Prime Minister Trudeau and consecrated on the autumn equinox by mystic David Spangler who saw it as a "portal into the mind of Gaia", it marked a peak time for New Alchemy.
Consolidation, publicity and prestigious awards followed, and in 1980, with the founding of a second research institute, Ocean Arks International, John Todd stepped aside as executive director. But in this Reagan era, finance problems began to loom. Buying rather than renting their land, restructuring, upping all available sources of income were just not enough. After a tense period which Nancy recalls as "Painful! Hard as hell", in 1992 New Alchemy finally had to close its doors. Luckily a dignified exit was made possible, via the sale of the Farm, and its Ark, to Cape Cohousing, and they closed financially in the black.
But the Todds were not finished yet! They likened the closing to "the bursting of a seedpod", scattering the fruits of twenty years' alchemy far afield. Ocean Arks International sailed on to bring innovative water restoration projects to polluted cities, from the US to China. Ecological design went official as it was adopted as curriculum (and practice) at the University of Vermont, with John as professor. Elsewhere many former New Alchemists fanned out as 'Earth Stewards' around the world to quietly (and not so quietly) sow their own seeds of transformation for a sustainable and peaceful world. The story goes on, and it is a tribute to all the New Alchemists that the alchemy is still brewing away today in diverse and unexpected ways, all helping to transform the world into a better place for future generations – what more could any visionary wish for?