A Practice of Equanimity
Donate Now
Issue 244

Sep/Oct 2007
The Green Imperative
Reviews
A Practice of Equanimity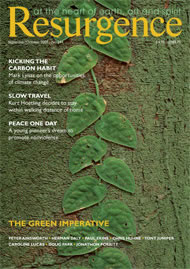 Cover: Aroid 1 Panama Rainforest Photograph: Art Wolfe
The Slapton Ley Project Sarah Gillespie White Lane Press, UK, 2007, £25.00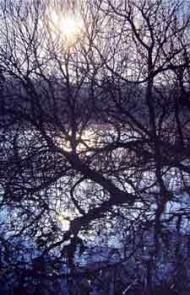 Ubicumque me verto ades, painting by Sarah Gillespie
SLAPTON LEY IS a National Nature Reserve in South Devon, England, where streams feed a freshwater lake surrounded by reeds and alder, separated from the sea by a shingle bank. The Ley is the home of coots and reed buntings, otters and dormice, and many more beings in a fragile yet ancient ecology. Sarah Gillespie lives nearby and has been visiting the Ley for many years, first as a mother with her children, and later as an artist. She was attracted by the "poetry of the place… The Ley became a kind of refuge for me. I became more and more intrigued by the light on the water: the web, sometimes denser, sometimes finer, of black alder branches; their crooked reflections disturbed by coots; discs of refracted light on the water…"
The paintings and drawings reproduced in this book, some would say, are realistic, almost photographic. This is true in the sense that we recognise in them the landscape they represent. But look again, and you will see in them a fine aesthetic, a careful selection of what is essential, and a honing down towards something which approaches the minimalist. My favourite is the charcoal drawing Some Rain, in which dark reeds skirt a patch of water patterned with concentric circles of falling rain. Nothing else. All this is expressed through the traditional disciplines of renaissance technique: natural materials applied in the tried and tested manner.
Gillespie has been studying and practising Buddhism for many years now, and she refers to her work as "a practice of equanimity, an intentional metaphor of non-separateness". She describes to me the importance of the Buddhist teaching of 'not-self': she insists that her drawings and paintings are not an expression of herself but rather that "my best work always occurred when entirely and absolutely absorbed in looking", so that anxiety over self and its expression "just fell away".
So Gillespie's charcoal drawings of coots, water and reeds are not just pictures of birds! "The coots are grainy black; the reeds are grainy black. The coots are not separate from the water, the water from the reflected cloud, the raindrop from the water and the reed from my pencil."
I think this is important work; it is sacred, deep ecology work, devotional, an act of love. It wakes us up to look again at our world: not just the grand landscapes but the sacredness of what we see in the immediate, the mundane which is also transcendent: in the precious Slapton Ley, but maybe also in an urban puddle! As Gillespie says, she aspires "only that people would look a little more deeply and hold the natural world a little dearer".