MORNING GLORY
Donate Now
Issue 210

Jan/Feb 2002
In Adoration of Nature
Conference
MORNING GLORY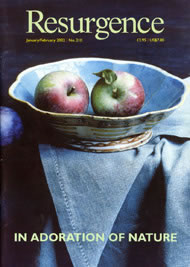 Cover: Spartan apples in a Chinese bowl. Photograph: Tessa Traeger
Reflections on the first Resurgence conference in America.
This article is only available as part of the PDF of the whole issue.
To read this article, please buy this issue, or join the Resurgence Trust. As a member you will receive access to the complete archive of magazines from May 1966.
Join Us
If you are already a member, please Sign in