In Adoration of Nature
Issue 210 • January/February 2002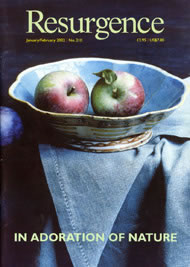 Buy a copy of this issue
Become a member and receive 6 issues a year
Contents
Key
Free for all to view
Free for members to view
Not available
Welcome
September 11
Reflections on the terrorist attacks in America.Economics
A profile of the world's first transnational corporation.
Let us rejoice in the logic of the Earth's economy.
We need to reinstate the concept of jubilee and resanctify Sunday.
Tales of agricultural sustainability.
Organic agriculture takes root in Egypt.
Law
Justice requires that Nature is recognized as a legal entity.
Conference
Reflections on the first Resurgence conference in America.
LOCAL FOOD, GLOBAL SOLUTIONS • Colin Hines
Moving the anti-globalization movement "from opposition to proposition".
Design
BEAUTY IS THE STANDARD • David W. Orr
We must love our children enough to design a more joyful world.
The marriage of craft and technology.
Architects need to meet the challenge of ecology, economy and equity.
The Arts
Craft: DANCE OF CLAY • Sandy Brown
Bringing craft into the core of everyday life.
The art of Ian Pyper makes the invisible visible.
The art of Steve Whitehead transcends the obvious.Poetry
The gift of poetry involves prophetic insight.
India Diary
Regulars
A Sense of Place

• John Moat
Letters to the Editors
Reviews
NO FRIEND OF THE EARTH • Andrew Simms
Review of The Skeptical Environmentalist
Review of Icons of Garden Design
Review of Gaia: The Next Big Idea
Review of Selling the Work Ethic
Review of Immunology of the Soul
REDEFINING SECURITY • Adam Curle
Review of Planet Earth: the Latest Weapon of War
Review of Divorce Your Car
LISTEN TO THE BUTCHER-BIRD • Jim Nollman
Review of The Book of Music and Nature